Certain forces using a grieving mother for political mileage: Pinarayi on Jishnu case
The Kerala CM said he has done everything possible and 'there is nothing more a government can do'
'Unfortunately the situation is such that certain forces even use a grieving mother for political mileage'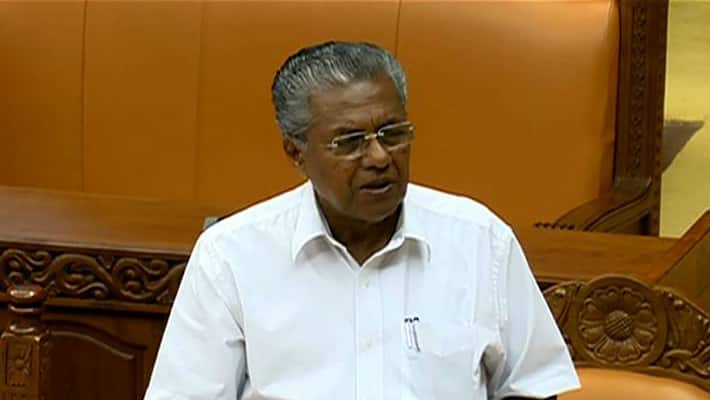 Pinarayi was referring to the agitation in the capital by the family members, including the mother, of Jishnu Pranoy, an engineering student of Thrissur-based Nehru College, who committed suicide in January, allegedly due to the harassment by the management of the institution.

"Unfortunately the situation in the state is such that certain forces even use the mental condition of a grieving mother for political mileage," the CM told reporters in Thiruvananthapuram.

The family launched an indefinite fast demanding justice for the student, but withdrew it on April 9 after the state government assured that all accused would be brought to book.

Initially they attempted to stage the protest in front of the DGP's office on April 5, but the police 'forcibly' removed them, with the action coming in for criticism from various quarters, including the ruling LDF partner CPI.

Giving details of the steps taken in the case, Pinarayi said the government has done everything possible and 'there is nothing more a government can do'.

Questioning the purpose behind the April 5 protest, he said "There was nothing to attain through an agitation and nothing for the government to do... We can say with courage that the government has done everything in the case."

On the alleged police 'high-handedness' in removing the family members, Pinarayi said it should not have happened and action would be taken against police officials, if any lapses were found.
Referring to the probe ordered by the government into the police action, Pinarayi said the investigation would reveal whether there was any conspiracy behind the planned stir in front of the DGP's office.

On the arrest of KM Shajahan, a former personal secretary of CPM veteran VS Achuthanandan, in connection with the stir, Pinarayi said action was taken by the police as he was a part of the agitation.
Pinarayi rejected Shajahan's charge that he was arrested due to personnel vendetta. "I have no personal enmity with him," he added.
Last Updated Mar 31, 2018, 7:03 PM IST