Dulquer Salmaan had an amazing time with Vidya Balan at 'Son of Abish'
Dulquer Salmaan and Vidya Balan were seen together at the show 'Son of Abish'
Dulquer explained the meaning of his name and had a very good time
He also said why he used to visit Chembur, the native place of Vidya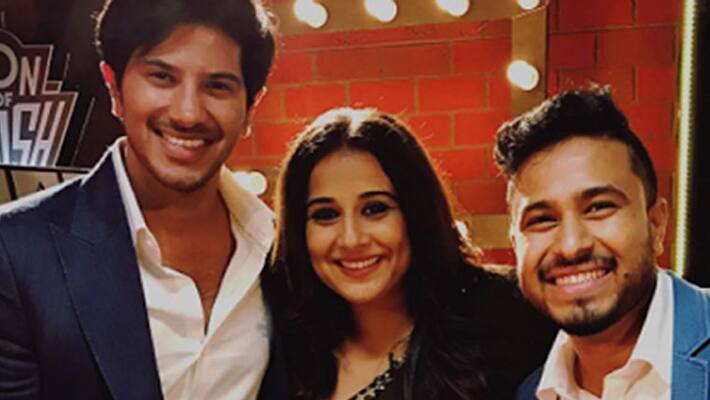 Dulquer Salman always wears the face of a calm, charming youth. It is perhaps the first time he was seen so cheerful and full of wit. 
The actor was full of energy and went bonkers at 'Son of Abish', the talk show of stand up comedian Abish Mathew. Dulquer also revealed some of this childhood memories. 
He attended the show along with Vidya Balan and their answers to the quirky questions of Abish sent the audience into peels of laughter. Dulquer even explained how difficult it was for him to grow up with such a rare name. 
The question was actually about the rare spelling of his name, and Abish asked why it is spelt 'Dulquer' rather than 'Dulker.' The anchor also said that he is hearing the name for the first time. 
In reply, Dulquer said that the name got an Arabic meaning. Both his names, Dulquer and Salmaan, are named after warriors, and it has a reference to Alexander. He also said that the name means 'he with two horns' or 'one with blue eyes.' "So I think it has reference to when Alexander invaded Persia, Dulquer said. 
Vidya, who is known to be so proud to be called a native of Chembur, was all talkative about her dearest place. When Abish asked Dulquer whether he had ever been to Chembur, the actor said he had visited the place several times during his college days. Dulquer explained that he had a friend from Chembur and he used to visit the place. 
Last Updated Mar 31, 2018, 6:40 PM IST