Actor Dileep offers prayers at Sabarimala temple [Video]
Dileep arrived at the renowned temple at around 6 am and had darshan at the main shrine and the Malikappuram temple
The actor also met and talked to Sabarimala melsanthi TM Unnikrishnan Namboothiri and other priests before leaving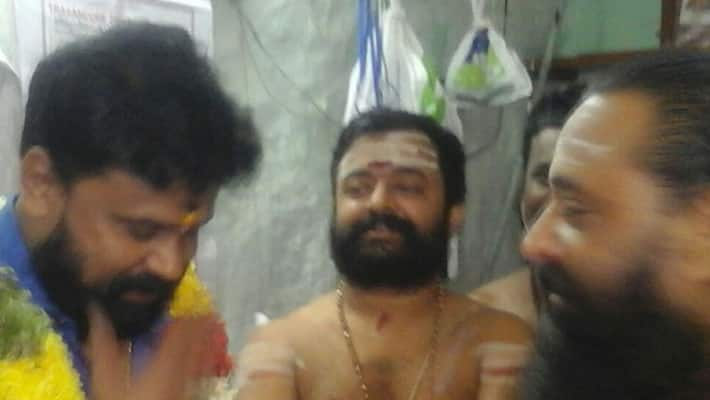 Actor Dileep visited the Lord Ayyappa temple in Sabarimala and offered prayers at the shrine on Thursday morning.
Dileep arrived at the renowned temple at around 6 am and had darshan at the main shrine and the Malikappuram temple. The actor also met and talked to Sabarimala melsanthi TM Unnikrishnan Namboothiri and other priests before leaving.
The development comes amid reports that the police team, probing the Kochi actress attack, would make Dileep the prime accused in the case.
Actress attack: Police ready with foolproof charge sheet against Dileep
Dileep has been the 11th accused in the case, according to the existing charge sheet, which was filed before his arrest in July. Pulsar Suni, who abducted and sexually assaulted the actress, has been the prime accused in the case so far.
However, the probe team is planning to submit that Suni or the other perpetrators didn't have any personal enmity towards the actress, like Dileep did. The actor allegedly hired Suni, orchestrated and paid for the attack, which should make him the prime accused, according to police sources.
Manju Warrier reveals why she supported Dileep starrer Ramaleela
Also, all charges levelled against Suni and the others, including gang rape, is applicable to Dileep as well, if he is proved to be the main conspirator. A final decision on whether to name Dileep as the first or second accused would be made after a high-level meeting of police officials in Thiruvananthapuram on Thursday.
Last Updated Mar 31, 2018, 6:48 PM IST