A wall painting of Mysuru Mayor depicting him as the King has become the talk of the town
But it is a long-held tradition that the Mysureans are used to seeing the first citizen in that avatar
Mayors are expected to lead the Jamboo Savari on the Vijayadashami Day
More than the painting of Mayor as king, people are raising eyebrows for his tricks to be in the news
A wall painting depicting Mysuru Mayor MJ Ravi Kumar like a king riding on a horseback accompanied by a police personnel has become the talk of the town in Mysuru. The brouhaha over the painting of Mayor as a king is just pointless, if not a mere publicity stunt.
Mysureans are used to seeing Mayors - complete with the robe and the peta - riding on a horse back, during Dasara. For, it has been a tradition in Mysuru that Mayor pilots the spectacular Jamboo Savari during the Vijayadashami day that includes a pack of Dasara elephants, along with horses, the tableau, folk dancers along with traditional drummers up to the Banni Mantap covering the distance of over five kilometres.
Irrespective of the gender, the Mayor is privileged to lead the Vijayadashami procession. Days before the Dasara, Mayors get into the grill of horse riding - if they are not used to. Usually, the Dasara Festival committee takes care of this.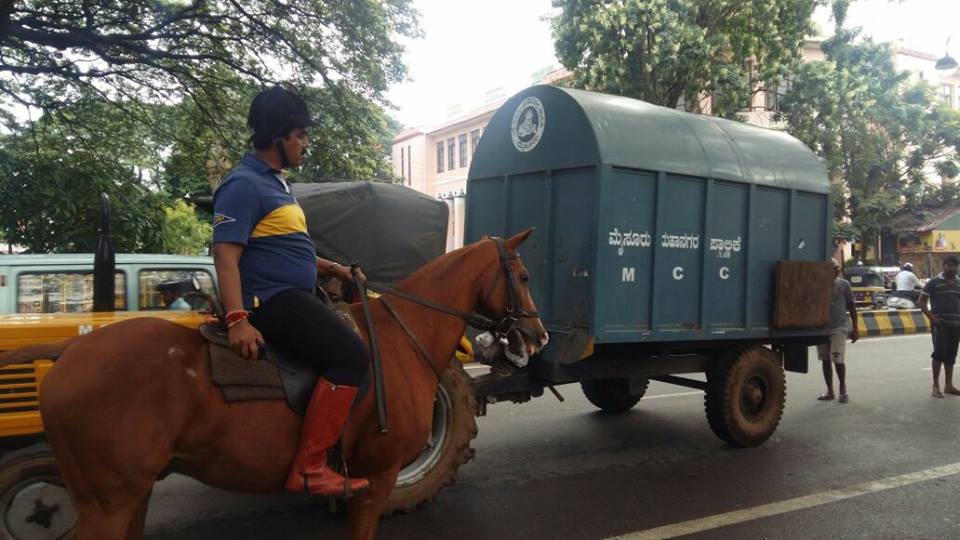 But why Mayor? "He is the first citizen of the city and it's a customary that he leads the Jamboo Savari procession on a horse back," noted historian Prof Nanjanraje Urs told Newsable.
In fact, even the deputy commissioner and the police commissioner - who are also the firsts in the administration and the security matters - get to ride the horse. But, except for the Mayor, the other two do not, Prof Urs said.
While there is nothing wrong in Mayor donning the robes and riding on a horse back, the very painting is being termed nothing more than a publicity stunt by Mayor Ravi Kumar.
"Dasara would be over in just a week, and people may tend to forget this Mayor, until the next Dasara. Having a painting of himself riding on the horse like a king would certainly boost his image in the city, at least as long as the painting survives the weather," ridiculed Prof Urs. Interestingly, the painting where it has come up is in Gayathri Circle, where Mayor resides.
Reports said that Mayor denied asking anyone to paint his picture as the king. Now, the painting has been reportedly erased after the Deputy Commissioner took exception to the painting of an elected representative on the wall.
Last Updated 31, Mar 2018, 6:41 PM IST