Who designed the Karnataka flag first? Five facts you need to know
Ma Ramamurthy designed the Karnataka flag with Yellow and Red horizontal stripes
The bi-colours signify peace and courage, respectively
But, the flag, is not an official flag of the state as the country's flag code does not allow states to have a separate flag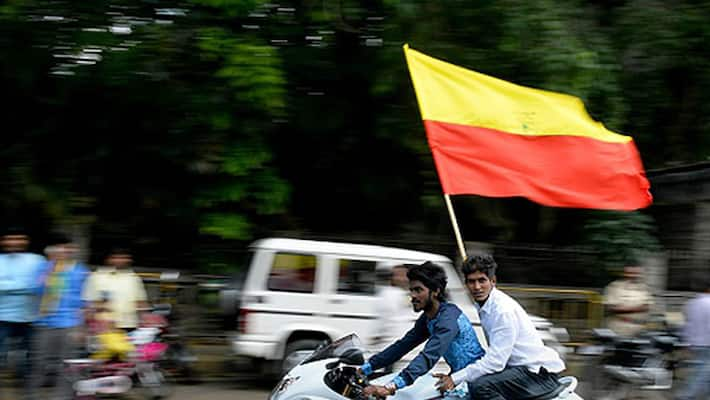 As far as Kannadigas can remember, the yellow and red flag has come to be associated with Karnataka and Kannadigas. Although it has not been accorded an official state flag status, it is no less than that. Now, that the Siddaramaiah government has formed a panel to design the flag to officially accord it a legal status, it is necessary to know who designed the Yellow and Red flag, that is proudly hoisted on every galli during Rajyotsava.
Here we decode the legacy of the Karnataka flag (Unofficial, so far).
1. Ma Ramamurthy, son of freedom fighter and litterateur Veerakesari Seetharama Shastri, was the first to have conceptualised and designed the Yellow and Red flag for Karnataka.
2. Ramamurthy was born on March 11 in 1918 at Nanjangud. He began his career as a journalist, and he was an editor of a newspaper, 'Kannada Yuvajana'.
3. It was in those days when non-Kannadigas were preferred in Karnataka above Kannadigas, and this forced the writers and intellectuals to come together to protect the interests of Karnataka. After several instances of anti-Karnataka like migrants from other states hoisting their state flag, Ramamurthy took out a protest against hoisting of such flags in Karnataka. This too forced him to think that Karnataka did not have a flag as its identity. He designed a flag with yellow and red around 1965.
4. His earliest version of the flag was yellow, a Karnataka map and a paddy crown in the centre. However, it was later adopted with only yellow and red colour.
5. The yellow and red colour signify peace and courage, respectively. Although Ramamurthy used the flag for a political party 'Kannada Paksha' formed by him, the party did not last long, but the flag came to be associated with Kannada and Karnataka.
Last Updated Mar 31, 2018, 6:46 PM IST