10 facts that make Vidhana Soudha, the pride of Karnataka
Vidhana Soudha, the seat of Democracy, was built six decades ago
Most of them who toiled to build this were convicts. They were reportedly promised freedom
Although the design was conceptualised by the first CM KC Reddy, his successor Kengal Hanumanthaiah changed it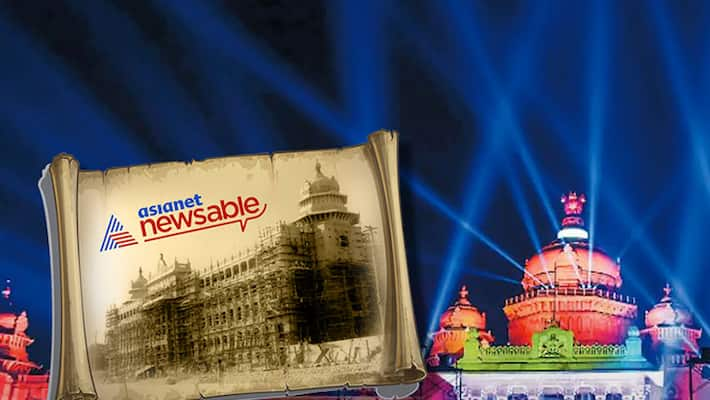 Karnataka's magnificent edifice Vidhana Soudha is celebrating its diamond jubilee. Located on Ambedkar Veedhi, the Vidhana Soudha is not just the seat of power of Karnataka but is also the testimony to the state's growth in the last 60 years. As President Ram Nath Kovind put it - in his joint session - 'it is the pride of Karnataka' - here are 10 facts that will stand testimony to his words.
1. After the Independence in 1947, then Mysore State was merged, and K Changalaraya Reddy or KC Reddy became the first chief minister of the Mysore State. Although Bangalore was the State capital, it lacked an appropriate building to host the Assembly. The government felt the need to have a separate building and thus the idea of Vidhana Soudha was born.
2. History has it that BR Manickam, government architect and chief engineer prepared the design for Assembly hall and a gallery as per the directions of KC Reddy.
3. Then prime minister Jawahar Lal Nehru laid the foundation for the Vidhana Soudha on July 13, 1951.
4. But Kengal Hanumanthaiah who succeeded KC Reddy as the second chief minister reportedly dismissed the first design. Hoping to have an indigenous building, Hanumanthaiah reportedly travelled across the country to get an idea of constructing an administrative building.
5. Originally, the funds sanctioned was Rs 50 lakh but by the time the building was completed, the cost had gone up to Rs 1.84 crore.
6. It is interesting to note that as many as 5,000 unskilled labourers who were mostly convicts - inmates from the Bengaluru Central jail - were used in building the Soudha. They were reportedly promised of freedom against their sweat. Besides, 1,500 masons and wood-carvers also helped in realising this building.
7. On top of the building, the motto 'Sarkari Kelasa Devara Kelasa (Government work is God's work) has been engraved in both Kannada and English. It has a mix of Dravidian and Rajasthani architecture designs and it took four years to complete the structure.
8. Spread over 60 acres, the Vidhana Soudha is completely built of granite. It has 172 rooms and can accommodate at least 500 visitors in the gallery.
9. According to Deccan Herald, the domes of Vidhana Soudha were designed by Mysore Royal family's sculptor Siddalinga Swamy and his son Nagendra Stapathi.
10. The Cabinet room door is made of Sandalwood and the Speaker's chair of Mysore Rosewood reports Deccan Herald.
Last Updated Mar 31, 2018, 6:48 PM IST