The special envelope contains rare information and unseen pictures of the maestro
The covers titled as 'The Gentle Knight of Music' were released at Seva Sadan, Malleswaram
The postal department was urged to bring out a stamp in memory of the artiste
In one of the rare honours, the Postal department brought out a special envelope dedicated to the legendary Veena Maestro Mysore V Doreswamy Iyengar here on Saturday.
The special envelope which aptly credits the maestro as 'The Gentle Knight of Music' is not just a cover. But it pays a rich tribute to the artiste.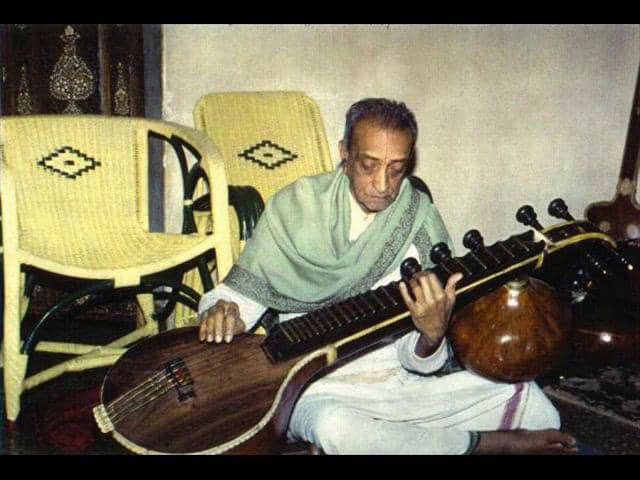 Mysore V Doreswamy Iyengar
On the back of the cover, one can find all about the great artiste like the child prodigy that he was, his performance before then Mysore ruler Nalwadi Krishnaraja Wadiyar and many. The Maharaja was so spellbound with his talent that he honoured Doreswamy as the court musician. Doreswamy was just 13, then. These rare information and many, coupled with some of the unseen photos of the maestro, the envelope is a treat for music lovers.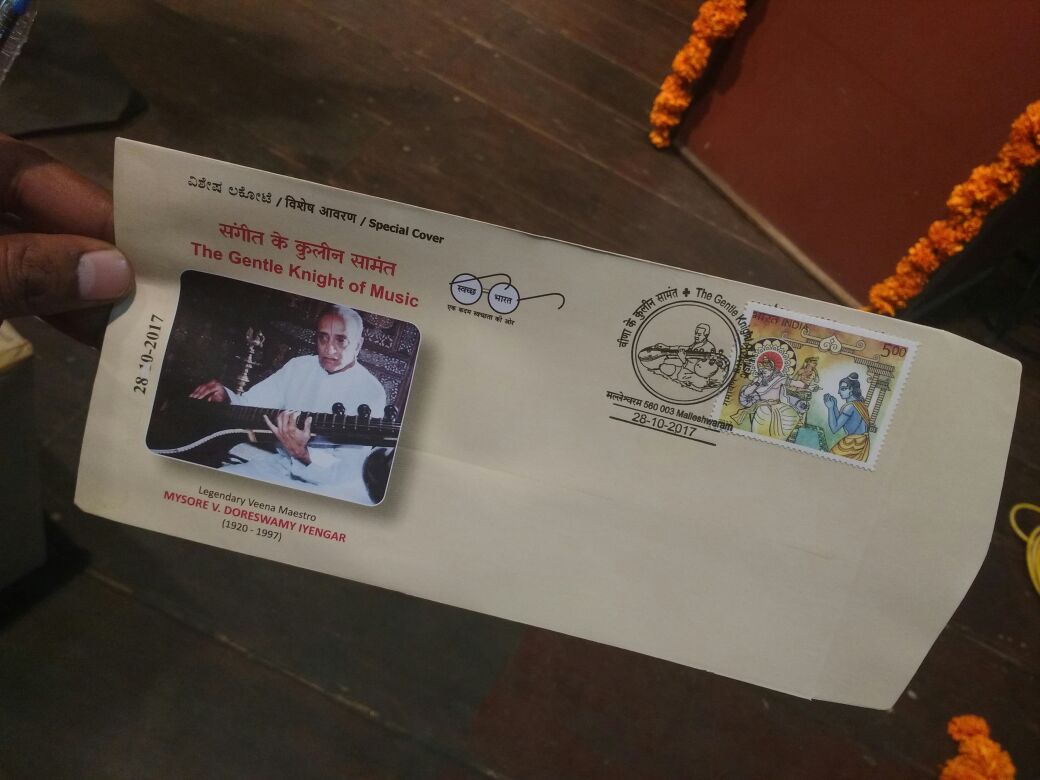 A special envelope released in honour of Veena maestro Mysore V Doreswamy Iyengar
The envelope was jointly brought out by Veena Doreswamy Iyengar Memorial Trust and Karnataka Postal Circle at Seva Sadan in Malleswaram. Bengaluru regional post master general Col Arvind Verma launched the envelopes.
Students of Vidwan D Balakrishna perform at the event.      
Pics:
A
 Veeramani
Paying rich tributes to the legendary artiste, Col Verma said Veena was the cultural identity of the India. However, when British invaded India, like many other cultures, playing The Veena became rare. However, it was legendary V Doreswamy Iyengar who gave a new lease of life to the dying art and today, the country is indebted to his contribution.
Former bureaucrat Chiranjeev Singh appealed to the postal department to bring out a special stamp dedicating for the Veena maestro. He also urged Col Verma to consider a proposal to bring out a stamp on another noted vocalist RK Srikantan.
Bharatiya Vidhya Bhavan Director HN Sathish and V Doreswamy Iyengar's son and Trust Managing trustee D Balakrishna were present.
Last Updated 31, Mar 2018, 6:50 PM IST