Vaikunta Ekadashi: Expert explains significance as Bengaluru celebrates
On the occasion of Vaikunta Ekadashi, the temples across the city witnessed huge footfall. Lord Vishnu temples in particular, witnessed a massive influx of devotees. According to astrologers, people who attain natural death on this day reach heaven. And those who fast, and chant prayers will benefit. Dr SK Jain, noted astrologer said, even those who do not believe will be protected. Regardless of whether they are believers or non-believers they will reap benefits, he said.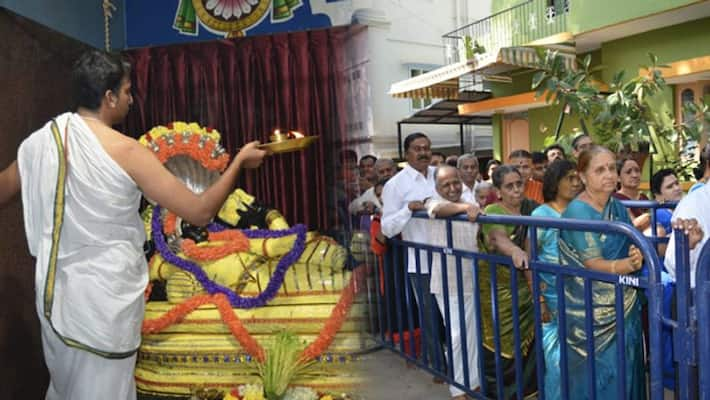 Bengaluru: On the day of Vaikunta Ekadashi which according to Hindus, is the day on which one can reach Vaikuntha, the spiritual kingdom of Lord Vishnu, huge footfall was witnessed across temples in Bengaluru and there is a mad rush in Lord Vishnu temples in particular. 
Srinivas temples in Subramanyanagar and Malleshwaram, Ranganatha temple on Chord Road, Iskcon temple, Tirupati Balaji temple in Vyalikaval, Kote Venkataramana temple in Chamrajpet and other areas, there were special poojas and distribution of Laddus as prasadam.  
"We at the Srinivas temple have made arrangements to distribute 25,000 laddus. This apart, arrangements to offer sevas like flower arrangements, distribution of prasadams, ghee abhishekham all have been taken care," said Manjunath, corporator, Subramanyanagar ward.
It is believed that the sevas will take you closer to Lord Vishnu. Noted astrologer Dr SK Jain observes that on this day, offering such sevas like fasting, reading Bhagavad Gita will attract lord Vishnu.
He also pointed out that, those who die a natural death on this day will reach the kingdom of lord Vishnu - 'Vaikunta'.
"This festival is famous in south India. Vaikunta Ekadashi means that on this day, the inner sanctum leading to Lord Vishnu is open. And those who die a natural death will reach Lord Vishnu directly. The misconception of taking life to reach heaven is ruled out as shastra does not mention suicide as a means to reach Lord Vishnu." said Dr Jain.
Few may not believe in these traditions and festivals, but the effect of Lord Vishnu will be on them too, said Dr Jain. "Fasting is good. Some in the family may not go to temple but will fast. This will help them as fasting has health benefits too," he said.
Last Updated Dec 18, 2018, 5:13 PM IST