If I was in JD(S) I would have never become CM: Siddaramaiah
Siddaramaiah said that on two occasions, he was deprived of becoming the chief minister
He was expelled from JD(S). "If I had stayed in JD(S) I would never have become the chief minister," he said.
"Yeddyurappa is senseless, Eshwarappa is stupid, Ananthakuma Hegade lacks culture and sophistication. They are all jealous of me," said Siddaramaiah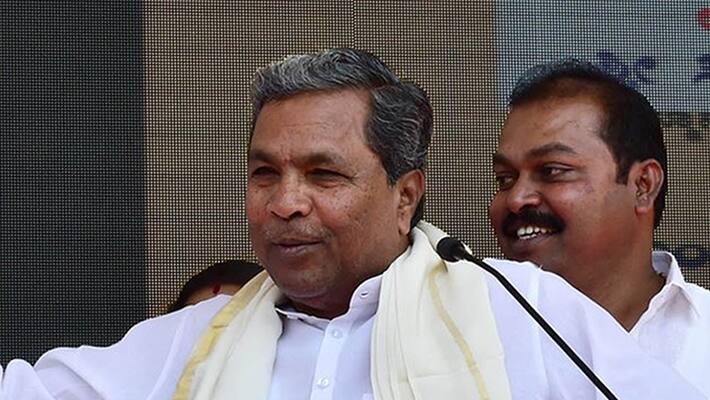 Chief Minister Siddaramaiah shared his life's experience that in 1996 he would have become the chief minister, but he was denied. Again in 2004, he was to become the CM again but he was unlucky again. He was later expelled from JD(S). "If I had stayed in JD(S) I would never have become the chief minister," he said, reports Kannada Prabha.
Siddaramaiah was speaking after laying foundation stone for civil works for Kanaka Bhavana at Nagamangala town. He did not mince any words when he came down heavily on JD(S). But he heaped praises on Sonia Gandhi, Rahul Gandhi and Congress legislators for making him a chief minister. If he were in JD(S) they would have never allowed him to become a chief minister, Siddaramaiah said. 
Coming down heavily on BJP, the chief minister said claimed that loan waiver has reduced the burden on farmers. "We have reduced the burden of farmers by waiving farm loan. Those in power before us did not do anything. Now, for grabbing power they are talking about farm loan waiver," he critiqued. "Yeddyurappa is senseless, Eshwarappa is stupid, Ananthakuma Hegade lacks culture and sophistication. They are all jealous of me. But I will not stoop to their level. Those who have gone to jail are calling me a commission agent. If they can come up with documents to prove me corrupt I will retire from public life," he said.
Cheluvarayaswamy, who has been expelled from JD(S) is joining Congress in January. He will get Congress ticket in the 2018 elections, he stated.
Adihunchanagiri seer Nirmalanandanatha Swami appreciated the chief minister for setting up an authority for Kempegowda and Kempegowda Jayanthi. He was speaking at the foundation stone laying ceremony at Bellur College for providing drinking water facility to 128 villages in Adichunchanagiri and surrounding areas.
Last Updated Mar 31, 2018, 6:55 PM IST