Unable to pay fine, this serial traffic offender gives away his bike
Roshan Ali Baig had violated traffic for 201 times and his traffic fine accumulated to Rs 20,100
In spite of repeated notices, he had failed to turn up
The police are now contemplating to auction his two-wheeler to recover his fine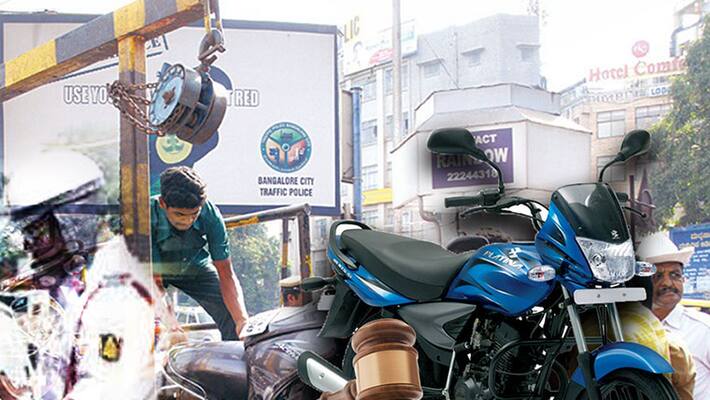 Unable to pay up Rs 20,100 fine for violating traffic rules for 201 times, a man in Mysuru has now decided to hand over his bike to compensate for his fine. The Siddharthnagar traffic police in Mysuru have now decided to auction his two-wheeler. The traffic offender is identified as Roshan Ali Baig, a daily wage worker from  Rajeevnagar in Mysuru.
According to Prajavani, Roshan has been riding without his helmet for over one-and-half-year. Besides, he has also been accused of triple riding, signal jump, crossing speed limit, parking in no parking area and also using mobile while riding. His offences were recorded on CCTV.
The police had been sending notices to his address. But Roshan had never responded. It has now come to light that Roshan had purchased the bike (KA 55 E 4785) from someone. Since he failed to change the address, the notice never reached him.
During the routine drive against traffic offenders on Mirza Road recently, traffic police caught Roshan. The police seized his vehicle and asked him to retrieve it by paying the fine.
However, Roshan has not turned up to claim his bike, so far. Hence, the police have now decided to auction his two-wheeler to recover his fine.
"Every time he was fined, he evaded us saying he would pay the fine later. His fine has come up to Rs 20,100. We had asked him to pay the fine and take his bike back. But it's been two months, and he has not turned up yet. So, we have decided to auction his bike to recover the dues," reports Prajavani quoting an official. '
Meanwhile, 7,622 vehicles have been fined for violating traffic for over 20 times. The police are now taking the door-to-door campaign to collect fine. Those who fail to pay the fine, they will be produced before the court, reports Prajavani quoting KN Madaiah, ACP (traffic).
Last Updated Mar 31, 2018, 6:33 PM IST