Why does Karnataka CM repeat Tipu's 300-year-old 'salaam' in a temple?
Tipu Sultan, in 1763 had waged war on the Keladi kings and acquired their lands and is said to have visited the Kollur temple
Tipu had bowed before the deity, performing a 'salaam'
Even today, every day, the temple holds a 'Salaam Mangalaarathi' in honour of that visit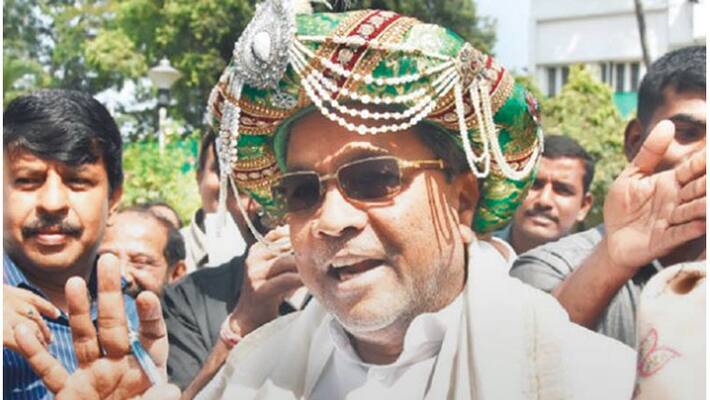 Interestingly, even to this day, that 'Salaam Mangalaarathi' pooja is conducted as a ritual in the Mookambika Temple.
The historical temple was established by Shankaracharya in Kollur, an estimated 1200 years ago. During that time, the region was ruled by the Keladi kings, and the temple was under their control. As was the usual 'Raj dharma' in those days, they waged wars on their neighbours.
Similarly, Tipu Sultan, in the year 1763, waged war on the Keladi kings and acquired their lands. It was during this that he is said to have visited the Kollur temple.
As per the legend, he was greeted warmly by the temple authorities, who held silver-studded torch lights aloft, played the drums and performed Vedic chants. For his part, Tipu is said to have entered the temple, kept his sword beside him, bent his body forward and paid obeisance in the usual Islamic fashion.
Even today, whenever special visitors and dignitaries visit the temple, they are given a similar greeting. And every day, the temple holds a 'Salaam Mangalaarathi' ritual, apparently in honour of that visit.
"Though there no proper records that could throw light on Tipu's visit to the Kollur temple, the ritual of 'Salaam Mangalaarathi' is being carried out from generations in memory of his visit to the temple. Earlier our ancestors were performing the pooja, and now we are carrying out this rich tradition.  History says that Tipu had given a golden necklace to the deity as a gift and even Muslim devotees used to come to the temple earlier," says Narayana Puranik, a Temple official.
A visit to this temple, and performing the 'Salaam Mangalaarathi' has become a minor political must-do for Karnataka's VVIPs, especially the Chief Ministers - who deck up like Tipu Sultan as well. And CM Siddaramaiah continued the tradition this year, though under a cloud.
Facing fierce criticism from right-wingers, especially the BJP for celebrating 'Tipu Jayanti', the CM was naturally defensive about this visit.
He made an interesting point - "BS Yeddyurappa, the State BJP President, is a chameleon of a politician. While he was in KJP, all of us know how he behaved in the matter related to Tipu then. Former Deputy CM R Ashok was crowned just like Tipu Sultan on some occasion. Didn't Jagadish Shettar dress himself similar to Tipu? Why are the people who showed their affection for Tipu then, now opposing him?", CM Siddaramaiah said, in response to queries.
Why indeed.
Last Updated Mar 31, 2018, 6:55 PM IST