Tipu Sultan's descendants to drag Union Minister Hegde to court for his 'mass rapist' comment
Union Minister Ananth Kumar Hegde tweeted to the CM not to invite him to the Tipu Jayanti celebration
Tipu Jayanti is being organised by the State government amid stiff opposition by the BJP leaders
Tipu's descendants claim that they were hurt by the minister's comments as they were unfounded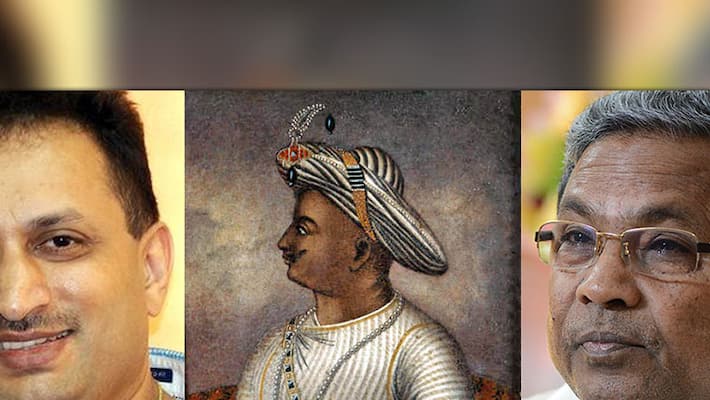 Union Minister Ananth Kumar Hegde's controversial statements on Tipu Sultan has not gone down well with Tipu Sultan's descendants threatening to take legal action against the union minister for his unfounded comments on the Mysore ruler.
Also read: Union minister calls Tipu mass rapist, terms his anniversary shameful
Hegde had tweeted that Tipu was a "mass rapist" and "brutal killer" and had asked Chief Minister Siddaramaiah not to invite him to "Shameful event" - Tipu Jayanti. "I have conveyed to Karnataka government not to invite me to shameful event of glorifying a person known as brutal killer, wretched fanatic and mass rapist," wrote Hegde. The Tipu Jayanti - the birth anniversary of 18th-century ruler of then Mysore, Tipu is being celebrated by the State government amid intense opposition.
Conveyed #KarnatakaGovt NOT to invite me to shameful event of glorifying a person known as brutal killer, wretched fanatic & mass rapist. pic.twitter.com/CEGjegponl

— Anantkumar Hegde (@AnantkumarH) October 20, 2017
However, taking strong objection to it, one of Tipu's descendants Bakhtiar Ali has threatened to take legal action against the minister. He told The Indian Express that "I was aghast to hear it last night. He was such a revered ruler. I do not know on what basis he has levelled such allegations and tarnished the image of the ruler. He was a national hero and the Tiger of Mysore." Ali, one of the sixth generations descendants of Prince Mooniruddin - one of Tipu's sons - is contemplating to discuss with his family members to initiate legal action against him. Prince Mooniruddin is one of the 12 sons of Tipu Sultan, who were deported to Kolkata by the British after Tipu's death.
Ali demanded that Hegde should tender an unconditional apology for his comments. According to the DNA, Shahid Alam, one of Tipu's descendants, said "We are surprised and hurt by the comments of the union minister." The minister's comments reflect the party's agenda to appease non-Muslims in Karnataka for his vote bank.
Meanwhile, Chief Minister Siddaramaiah is defiant that the state government will go ahead with the Tipu Jayanti celebrations, as planned.
"Let anyone come or not, we will celebrate the Tipu Jayanti," Siddaramaiah told reporters in Mangaluru on Sunday.
Taking a dig at union minister Hegde's request not to invite him to the event,  Siddaramaiah said "As per the protocol, we have printed the names of dignitaries in the invitation. It's up to them whether to attend or not."
It's not just Hegde, but almost all the BJP leaders have refused to attend the Tipu Jayanti. From Yeddyurappa to Shobha Karandlaje to Jagadish Shettar, the majority of the BJP leaders have decided to boycott Tipu's birth anniversary.
"Yeddyurappa had participated in the Tipu Jayanti celebration when he had founded the Karnataka Janata Paksha. There was Shobha Karandlaje too with him. Even Jagadish Shettar had written a foreword to a book on Tipu authored by former vice-chancellor Sheikh Ali. Then these leaders did not have any problem with Tipu Sultan. How come, they have changed their raga, now," Siddaramaiah sought to know.
The government cannot force anyone to attend any state-sponsored programme. Their absence won't effect the programme, either, Siddaramaiah retorted.
Last Updated Mar 31, 2018, 7:05 PM IST