Tipu Jayanti peaceful amidst tight security
The controversial Tipu Jayanthi went off peacefully in the State amidst tight security
Despite prohibition order for procession and rally, bike rally was held in Bengaluru, Bagalkot and Mandya
Hazarath Moulana Sageer Ahmed Khan Saheb Rashadi of Ameer –ei Shareeyath said Tipu did not discriminate between religions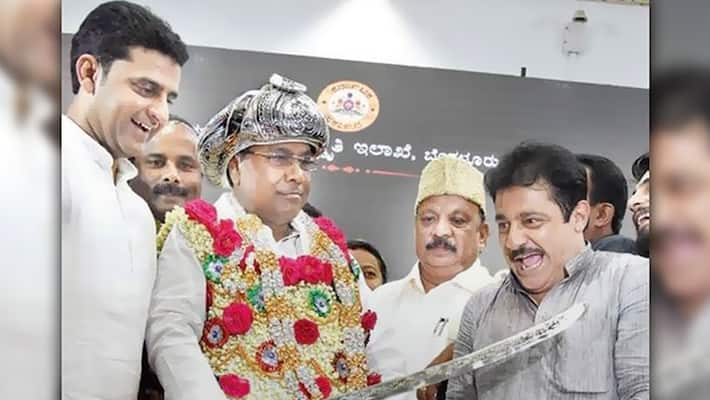 The controversial Tipu Jayanthi went off peacefully in the State amidst tight security barring a stray incident of stone throwing at bus at Kodagu. In other districts too the celebrations were peaceful except for small protests by BJP and pro-Hindu organisations, reports Kannada Prabha. Despite prohibition order for procession and rally, a bike rally was taken out in Bengaluru, Bagalkot and Mandya.
BJP Disciplinary Committee has issued a show cause notice to Hospet BJP MLA Anand Singh for attending the Tipu Jayanthi celebrations and has asked him to reply within 7 days.
At Bagalkot, MLA Kashappanavar and at Bengaluru MLA Zameer Ahmed led the procession in the presence of police. Youth from Mysuru took out a bike rally from Mysuru to Srirangapattana, where Tipu's tomb is located, with pomp, carrying flags and sound amplifiers. Mandya police halted the rally at Naguvanahalli and there was a scuffle between police and youth. For some time the situation was tense. However, senior officials arrived and sorted out the issue and diffused the tension. The police escorted the rally to Srirangapattana.
Though the State government held the Tipu Jayanthi ignoring the BJP protest, the public participation was limited. Huge crowds were missing even at Ministers' programmes at Davangere and Tumakuru. At Chikkodi and Kalaburagi, public expressed anger over symbolic celebration amidst ban and prohibition. Muslim leaders gheroed MLA Ganesha Hukkeri at Chikkodi for not permitting a procession. In Bengaluru, Chief Minister Siddaramaiah inaugurated the Tipu Jayanthi celebrations at the Banquet Hall in Vidhana Soudha. Meanwhile, Home Minister Ramalinga Reddy has alleged that it was BJP workers who threw stones at a bus in Madikeri. In Madikeri, the bundh was partially successful. Schools and colleges conducted classes as usual but attendance was less. The government buses were running full schedule while some private buses and autos stopped plying.
At the Tipu Jayanthi organised at the Madikeri Fort old legislative auditorium, MLC Veena Appaiah delivered an impressive speech without mentioning Tipu. She complemented the district administration and the police for conducting the programme peacefully despite the strong protest against Tipu Jayanthi in the Kodagu district.
In the City, the Hazarath Tipu Sultan United Forum celebrated the Jayanthi by offering floral tribute to Tipu's photo at the Tipu's summer palace at Chamrajpet. Speaking on the occasion Samyukta Ranga president Sardar Ahmed Khureshi said Tipu's ideology must be adopted by all. Tipu was secular and considered all communities on equal footing but he is being painted as a fanatic, he said.
At Yarab Nagara, Padmanabha Nagara legislative constituency J D(S) leader K Gopal organised the celebrations and distributed over 500 note books to school children. At Bengaluru East KR Pura MLA B Basavaraju offered floral tribute to Tipu's photo. He said it was the funamentalists who celebrated Tipu Jayanthi first but now are protesting for political reasons. At Islam Pura in KR Pura Bahujan Samaja Paksha State President Jyothi and members celebrated Tipu Jayanthi.
While BJP was protesting against Tipu Jayanthi, Bommanahalli constituency BJP MLA Satish Reddy had put up a flex sporting his photo wearing a cap wishing for Tipu Jayanthi, causing embarrassment to BJP. However, he later said he had not put up the flex but miscreants had done it to embarrass him.
Meanwhile, Hazarath Moulana Sageer Ahmed Khan Saheb Rashadi of Ameer –ei Shareeyath said Tipu did not discriminate between religions. He built both mosques and temples. Siddaramaiah is doing a good job. He also appealed to the government to name Ballari Road after Tipu Sultan.
Last Updated Mar 31, 2018, 6:40 PM IST