There's more to Venkaiah Naidu's nomination to VP post than what meets the eye
M Venkaiah Naidu is BJP's candidate for vice president's post
Naidu was elected to Rajya Sabha thrice from Karnataka
With his nomination, Modi-led BJP wants to gain its prominence on South India in the next general election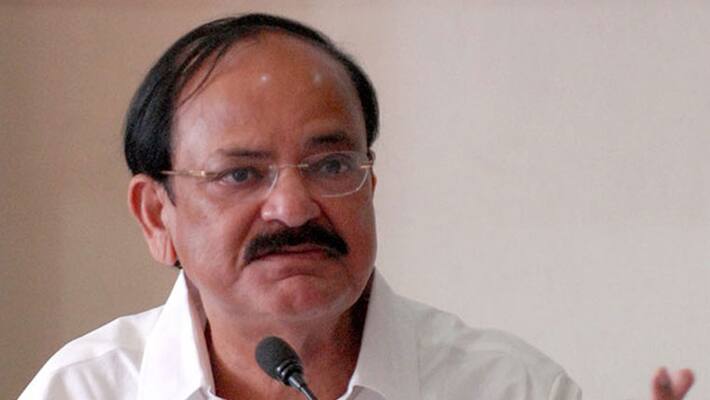 Five-time Rajya Sabha MP M Venkaiah Naidu is the BJP's choice for vice-president post. By pitching for Venkaiah Naidu's candidature for vice-president polls, Narendra Modi-led BJP is certainly eyeing Southern India in the next polls.  Moreover,  if Naidu manages to gain more votes than Congress' candidate Gopalakrishna Gandhi, his election will help the party in gaining more strength in the Rajya Sabha, where the party's numbers are very less.
Naidu represented Karnataka in the Upper House for 15 years after he was elected thrice from here. But there was a huge outcry against him contesting from the state as pro-Kannada organsiations protested that he never worked in the interest of the state. As a result, Naidu had to shift to Rajasthan from where he contested and won for the fifth time to Rajya Sabha, reports Kannada Prabha.
In fact, there were reports that Naidu was being considered for the presidential post and he had the considerable support too. But the party had decided to field a dalit and hence, Naidu's candidature was pushed to vice-president's post. NDA which has less strength at the Upper House hopes to compensate it by having Naidu as vice president, for it has been a tradition that one who becomes vice president will eventually be the chairperson of Rajya Sabha. Moreover, with his nomination, the BJP wants to prove the significance it attaches to Southern India ahead of next general election.
Naidu plunged into politics from his student days where he participated in student movement against emergency. Born on July 1 in 1949 at Nellur district of then Andhra Pradesh, Naidu was hugely influenced by ABVP and Jan Sangh movements against emergency. He was jailed for participating in students movement against emergency in 1975.
In the later years, he emerged as strong BJP leader and elected to Andhra Legislative Assembly twice in 1978 and 1983. He was the urban development minister during Vajpayee rule. Later, Naidu elected to Rajya Sabha thrice from Karnataka in 1998, 2004 and 2010. He was also BJP national president twice n 2002 and 2004. Currently, Naidu holds urban development ministry in the Modi government.
Last Updated Mar 31, 2018, 6:47 PM IST