State Bank of India, which would start merger process of SBM from April 1.
With the merger SBI will become a lender of global proportions with an asset base of Rs 37 lakh crore.
SBM on the other hand, will just become a memory.

Despite an intense agitation that saw 10,570 members of State Bank of Mysore protesting the merger, come April 1, the SBM will become part of Karnataka glorious history. 
"The name board will be replaced from SBM to SBI it will be like losing an organ from your body.  I joined here as typist in 1980 and as a proud SBMite I have thousands of memories etched in my mind," said an emotional Sarvesh Rao, Special Assistant of the Bank and Treasurer of the union 
'SBMite' like Milind Katti, who is the  General Secretary, State Bank of Mysore Employees Union believe that the merger may be good for the Bank but nevertheless it has come at a cost.

Katti, who has been attached with the SBM for the last 33 years, Milind Katti takes pride in the several initiatives undertaken by the bank. Its signature projects like the loan assistance to coffee farmers or the ''one-time settlement" scheme for farmers owning tractors later inspired other leading national banks as well. 
"We were good at helping the nation. Our service of sacrificing one day leave and giving the one day salary to Tsunami victims and getting our Kabbadi team member getting Arjuna award for participating in Olympics are just some of proud moments for SBM. The tag of State Bank of Mysore is very emotional subject," he said.
The bank was established as The Bank of Mysore in 1913 by Nalvadi Krishnaraja Wodeyar and Sir M Vishveshwaraya and Sir KP Puttanna Chetty was made the Chairman of the bank. By 1938 the Bank had 20 branches and on March 1, 1960 the bank attained the status of an association of State Bank of India and hence was rechristened as State Bank of Mysuru.
Manohar Ghokle, one of the founding member of SBM museum,  says, the Bank was a lovable subject of Maharaja, and hence he ordered the pillars like the one's in Mysore palace to be installed in SBM's head office.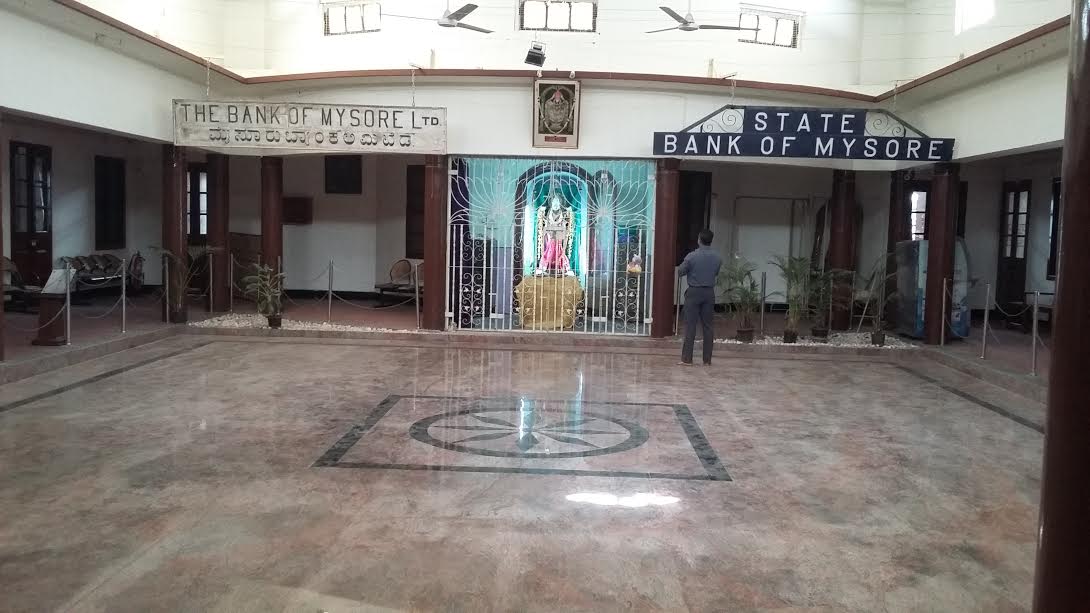 "In Hindu culture, the money and wealth is associated to goddess Lakshmi.  And so the Maharaja ordered a Jaipur marble statue of Lakshmi to be installed in the bank. What started as single bank in 1913 has now 1,074 branches in 104 years of journey," he said.