Bangalore was one of those places where Italian prisoners were made to serve their days out
There were a several thousand of them,at the POW Camps (Group 1) in Jakkur, Hebbal and Jalahalli
When Britain indulged in wars, the spoils of war were divided within the kingdom while the prisoners of wars were left to rot in one of the various prison camps set up in the country for that purpose.
In the 1940s when the Second World War was underway, Bengaluru served its role to help the British air force. In 1942, the HAL airport  was requisitioned by the British for use by the Royal Air Force in order to protect India from Japan during World War II. In February 1941, Italian prisoners of war arrived in Bangalore by a special train. The POWs in Bangalore at that time were pressed into constructing three airfields at Jalahalli, Jakkur and Yelahanka. They were part of the Group I camp of prisoners and were put up at the Garrison Grounds, today's Parade Grounds-Cubbon Road area.
With the commencement of World War II, Bangalore became an important military base with Southern Army HQ located at Jayamahal Palace. 225 RAF Group at Race Course was designed to accommodate 10,000 Italian prisoners of war. Towards the end of the war, an officer's training school was set up.
Rezwan Razack, Managing Director of the Prestige Group, and an avid collector of Indian banknotes, in his blogpost titled India: Prisoner-of-War Coupons  sheds some light on the how these prisoner camps were funded. His writing reveals that counterfeit currency was a problem back then as well.
The POWs were interned in India in 29 camps and divided into 6 groups. Bangalore held Group 1 with camps 1 to 8 and they held the Italian prisoners.  Bangalore issued denominations of 1, 2, 4, and 8 annas and 1,2, and 5 rupees.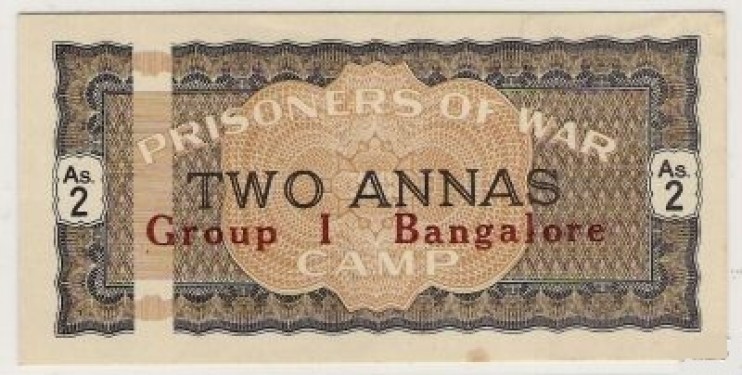 Here's few things you need to know about the note
There is imprinted the words Prisoners of War on top and CAMP near the bottom.
The denomination is in the middle on either side.
The notes had distinctive colours for different denominations. Purple for 1 Anna
Since the British feared an economic danger posed by counterfeiting, they had devised a method of coupons for prisoners of wars. These POW camps were said to house German, Italian and Japanese prisoners. These camps were located in Ahmednagar, Bangalore, Bhopal, Ramgarh, Yol, Delhi and Clement Town.  The coupons were issued by each Wing of the camp and were authorised by the Camp Commandment.