'PRESS'ing matter: Dear CM look how your officers are killing Kannada
CM's programme to unveil his grand vision exposed the real 'state' of Kannada
Kannada translation of a few English words was incomprehensible, if not downright foolish
Will Kannada Development Authority take the government to task?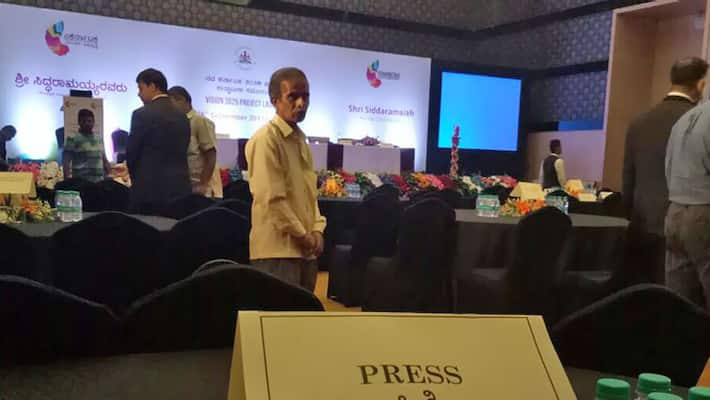 Chief Minister Siddaramaiah is a known champion of Kannada. He never spares a chance to educate and enlighten others on Kannada or even to show his 'love' for Kannada. But ironically, on the day of Siddaramaiah unveiling his grand vision for a 'New Karnataka', Kannada language was perhaps at its lowest point. 
ಕೆಲದಿನದ ಹಿಂದೆ ನಾ ಓದಿದ ಶಾಲೆಗೆ ಭೇಟಿ ನೀಡಿದ ವೇಳೆ ಅಲ್ಲಿನ ಮಕ್ಕಳಿಗೆ ಕನ್ನಡ ಕಲಿಸುವ ಗುರುವಾದೆ. ಜಾಣ ಮಕ್ಕಳೊಡನೆ ಒಡನಾಡಿದ ಆ ಸುಂದರ ಕ್ಷಣಗಳ ಮೆಲುಕು... pic.twitter.com/PLyvtTwgUK

— Siddaramaiah (@siddaramaiah) September 24, 2017
Check this. The word 'Press' which meant media was translated to Kananda! Not just that even the designation of Additional Chief Secretary was mentioned wrongly! Another eyesore was the translation of 'Vegetarian buffet'. In an attempt to have everything in Kannada, the government staff - it appears - just did a 'Google' translation of these words deeply embarrassing the Congress government.
Ever since Siddaramaiah has come to power, he has been vociferous about the implementation of Kannada language in the administration. However, mistakes at this level are just too horrendous!
Last Updated Mar 31, 2018, 6:42 PM IST