Shivakumar, accused of raping and murdering Prathibha Srikant Murthy, is allegedly having an affair with a home guard
Their photos of together caught the eye of one of the home guard, and now it's being circulated among the colleagues
Prathibha was an employee of HP, and she was killed while leaving night shift work in her office cab
Remember Prathibha Srikant Murthy, the HP employee who was raped and brutally killed by her office cab driver, almost a decade ago?
Now, her killer, Shivakumar, who is serving the sentence at the Parappana Agrahara Central Prisons, is allegedly madly in love with a lady home guard, deployed at the prisons. The accused Shivakumar who is married and has a child has reportedly promised to marry the home guard.
Shivakumar has been in the jail for the past 12 years after he was found guilty of raping and murdering Prathibha, in 2005 in Bengaluru. Prathibha had left her home to attend the night shift at the office and Shivakumar who picked her up in the office cab, raped and killed her. The incident had brought the issue of safety of women working in the night shift to the fore. After finding him guilty, Shivakumar was sentenced to the life imprisonment in Bengaluru.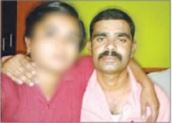 A selfie of home guard and Shivakumar
It is almost over a decade since Shivakumar is in the jail. With his good conduct, Shivakumar has managed to be in the good books of the prison officials. So much so that the officials reportedly assign him various office-related works in the prison. It is here Shivakumar came in contact with the home guard, part of security personnel at the prison office.
According to Kannada Prabha, Shivakumar would lobby with the officials to assign him important works in the prison, and he would also lobby for his girlfriend to be deployed for the same work. Since he was a prisoner with good conduct, the officials reportedly did not suspect him.
Taking advantage of it, Shivakumar would frequently pretend to be sick and would get himself admitted to the Victoria Hospital. He would reportedly ask his 'girlfriend' to meet him over there. While Shivakumar would sneak out of the security staff at the hospital, his girlfriend too would find some excuses from her duty to meet him. The lovebirds have allegedly spent time roaming around the city, in hotels and lodges too.
Their love story would have never come to light, if not for their selfies. It is reported that one of the colleagues of the home guard while checking her friend's mobile phone found the pictures of her and Shivakumar. She reportedly transferred those pictures to her mobile and circulated among her officers and colleagues.
Interestingly, their alleged affair has not caught the attention of any of the prison officials. Speaking to Kannada Prabha, the jail superintendent Somashekhar said 'I am not aware of their relation. Will probe into it."