Pillar crack throws Bengaluru's metro off-track
The Bengaluru Metro Rail Corporation (BMRCL) made it clear that there was a honeycomb formation in one of the pillars and work is on to rectify the same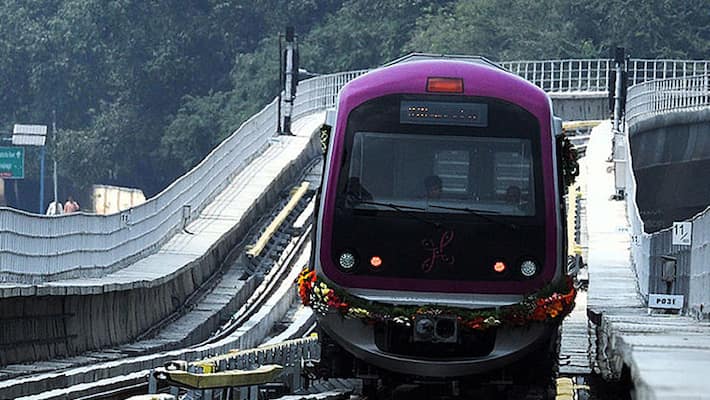 Bengaluru: Bengaluru Metro faced delays in service along with rumours of a crack in one of the pillars at Trinity Circle.
The Bengaluru Metro Rail Corporation (BMRCL) made it clear that there was a honeycomb formation in one of the pillars and work is on to rectify the same.
Due to noticing of honey comb formation in concrete, restoration works is in progress at Trinity station.Speed restrictions are imposed at this location. Trains may run between 10 to 15 mins and there may be delays in operation. Commuters are requested to cooperate with us."

— BMRCL (@cpronammametro) December 12, 2018
From 8..15 Hrs onwards trains are running on both the tracks in purple line. Slowly we are trying to pickup pace to normalize with induction of more trains. Still expect delays due to speed restrictions at Trinity station . Request cooperation from Namma commuters.

— BMRCL (@cpronammametro) December 12, 2018
From 10.20 Hrs train operations are normalized . Thanks to all the commuters for their cooperation and bearing with us .

— BMRCL (@cpronammametro) December 12, 2018
Though the official Tweets clarify that the problem has been rectified, people are expressing concerns in travelling by the metro.
In the morning, people were seen queuing up and the trains plying on a delayed schedule inconveniencing commuters.
A crack on the pillar within a span of one year is surely not good news. The authorities should inspect the complete metro stretch and ensure safety of passengers.
What is honeycomb formation in construction?
Concrete is formed into different shapes like columns, beams, foundations, and slabs. When concrete is poured into the particular form, it flows slowly (unlike water) and forms a uniform surface. In the process, if the flow is not uniform, it can leave small spaces exposing the aggregate. There might be a gap between the aggregates of the concrete against the formwork.
Such type of surface and texture (with gaps) resemble honeycomb and that is why it is called so in the construction sector.
Last Updated Dec 12, 2018, 6:30 PM IST