Day 4 of Anganwadi protest
Rs 10000 is too much to ask for?
20000 workers who want a decent livelihood
Can grassroot leaders hear the plea of grass-root level workers?
"How do you expect me to eat? I have left my family behind in Tumkur and I'm living on the streets practically for the last three days. I am doing this so I can earn enough to give my family a better life," said an exhausted Puttama, an Anganwadi worker."
"I earn Rs 6000, and the house rent is Rs 3000. How can I pay the school fees for my child, which is Rs. 8000?" said Lakshmi, another Anganwadi worker.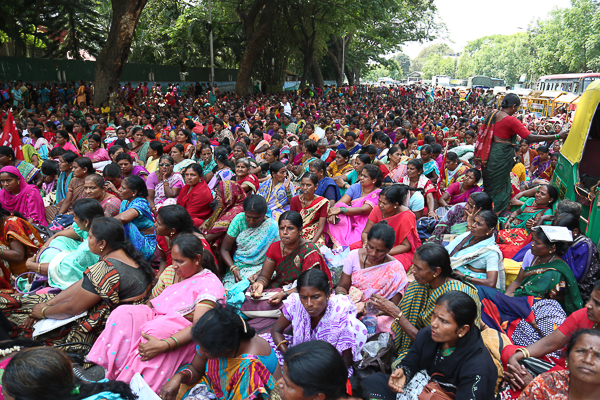 Around 20,000 Anganwadi workers from 8 districts across Karnataka have been living on the road leading up to Freedom Park, Gandhi Nagar, Bengaluru, enduring the blazing sun, surviving on peanuts sold at the corner, sleeping near the divider all through the nights. It has been three days of relentless protest seeking an increase in their incentives.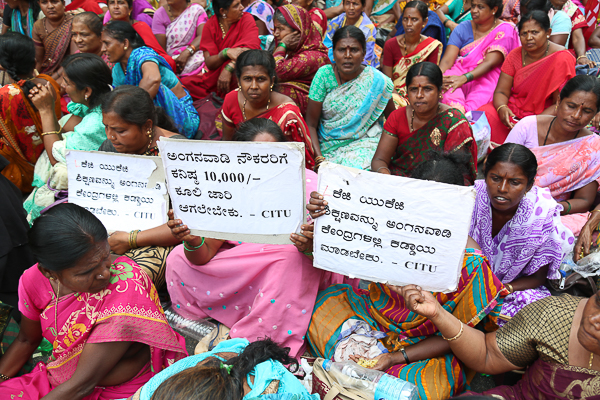 "We demanded an increase up to Rs 15000. Workers in Goa earn that much. And then we have even come down to Rs 10000. Is that too much to ask for? A hike of just Rs 500 or Rs 1000 each time is akin to throwing biscuits to please the dogs," said Mallika, an Anganwadi worker from Hubli.
From taking care of newborn babies, pregnant women, nursing mothers, to the basic needs for children in schools, an Anganwadi worker's job entails them all. Besides, they ensure these centres in villages are kept clean - from mopping floors to cooking food for the malnourished.
 
"We work at the grass-root level, shouldn't these so-called grass-root leaders take care of our needs? What's the point of proving welfare schemes and allocating budget for women and child? Are we not women in need?" said Gangamma from Raichur.
This protest of theirs is actually not 4-days-old. It's been several years and their cries have remained unwiped and unheard. Even two years ago, they said that Karnataka CM Siddaramaiah promised to help them. However, their hopes came crashing down with the recently-presented state budget.
The election code of conduct disallows the CM from taking any decision and hence, has promised to call for a meeting on April 19th.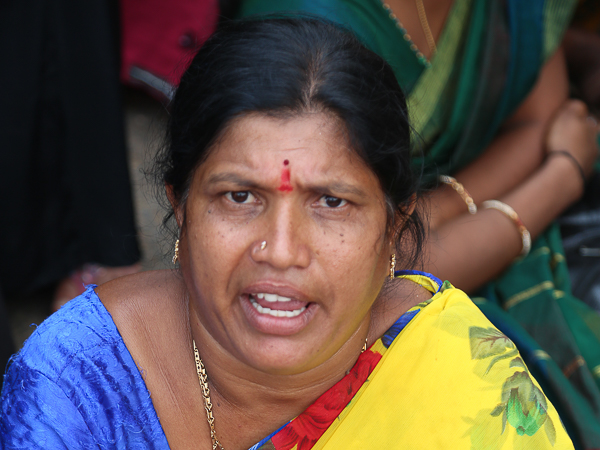 These struggling women say this is just another eyewash. "We have seen enough. We will not fall for this. We will not stop. If necessary, we will even block roads and lay siege on Vidhana Soudha," said Sowbhagya from Mandya.
The disappointment is loud and clear. While the opposition leaders from JDS and BJP took the step forward to personally meet them at the venue and at least hear them out, the CM called the representatives of those protesting to his chamber. The anger was evident. "Why couldn't the CM come here and meet us. If we have to block the road to gain his attention and his presence, we will do that then. I'm sorry to cause this inconvenience to the public, but I plead for those people's support too," said Girija S, an Anganwadi worker, adamant that she will not budge.
They don't seem to care about their health. If they feel uneasy, or even faint, they are determined not to go home. They are decided. If necessary, the doctor-on-call with an ambulance is enough to keep them going, they say. All of these women have a child at home waiting for the mother, an ailing father at home waiting for his daughter, or a husband at home waiting for his newly-married wife. Can these 20,000 workers go back home with a paltry sum of Rs10000, which can breathe in some life into their families?
Photo credit: Abu