Who's the real people's leader - a fish-eating devotee or a fasting devotee?
Prime Minister Narendra Modi was on fast when he visited Manjunatha temple in Dharmasthala
A few days ago, CM Siddaramaiah had visited the same temple after eating fish and this had led to a major controversy
As elections are nearing, BJP leaders come up with new definitions for a true leader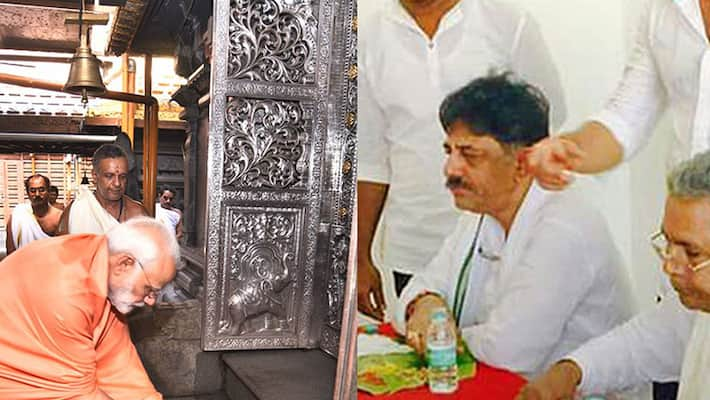 What makes Narendra Modi a true people's leader than Chief Minister Siddaramaiah? Is it Modi's vision, revolutionary policies or his charisma? May be all of them. But above all of that, he decided to fast until he offered prayers at Lord Manjunatha temple in Dharmasthala than Siddaramaiah who visited the temple after relishing a fish meal.
PM Narendra Modi offers prayers at Manjunatha temple in Dharmasthala
Clearly playing the Hindutva politics, MLA and former BJP minister Aravinda Limbavali said Modi is the true leader for he refused to eat a single morsel until he offered prayers at the temple. According to reports, Narendra Modi who arrived at Dharmasthala in the morning refused to take any food insisting that he was fasting. "Modi did not take anything till the puja was over. But our chief minister does not mind going to the temple, even after eating the fish. This is the difference between the true leader," Limbavali told BJP party workers, ahead of Modi's visit to Bengaluru.
It may be recalled here that Siddaramaiah recently kicked up a controversy for visiting the temple after sharing a fish-meal in Mangaluru. The pictures of the chief minister along with his cabinet colleagues Ramanath Rai and DK Shivakumar having a meal and visiting the temple post-lunch had gone viral. But the chief minister was unapologetic. " There is no mention in the scriptures that people who have consumed non-vegetarian food cannot have darshan of the deity. Didn't Bedara Kannappa offered meat to Lord Shiva," Siddaramaiah had shot back at the reporters. He was livid at the fact that the BJP leaders were finding nothing but his food habit to criticise him.
In fact, to put an end to the controversy, an authority of the Dharmasthala temple told news channels that "We have no restriction as such in the temple. We cannot impose the food habits on the people."
But the BJP leaders seem to be not letting this issue to pass as the Assembly elections are nearing. Since Dharmasthala is a significant pilgrimage centre in the State, the BJP leaders are now trying to cash in on the Hindutva card than on real issues.  
Last Updated Mar 31, 2018, 6:49 PM IST