This is how Namma Metro stations turned as tourist spots [12 Photos]
After a wait of five years, Namma Metro Green Line is functional from Sunday
On the first day, within 6 hours 1.17 lakh people boarded the Metro Train in the new line
Even on Monday, there were huge queues in front of the counters to get ticket
Children, youth as well as elderly people were seen enjoying the metro ride, making the stations look like tourist spots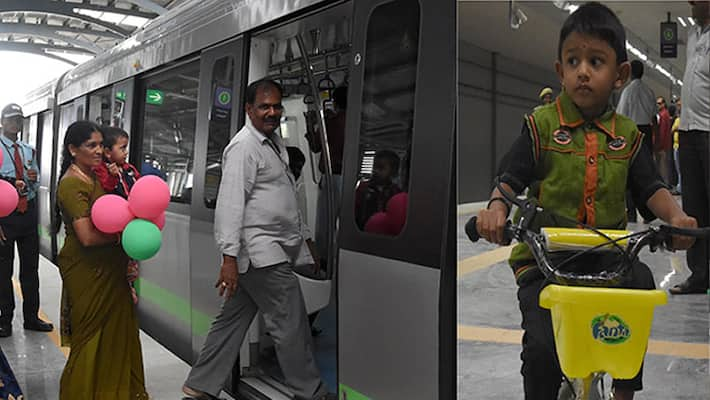 People of Bengaluru have been waiting for the Green Line of Namma Metro from five years. Ending the long wait, Namma Metro started its operations on Sunday from Yelachenahalli to Nagasandra with a bang.
Just within 4 hours of the inauguration of Metro Green Line from Yelachenahalli, a record 38,000 commuters boarded Namma Metro. By 10 pm the total number went up to 1.17 lakh. People were seen thronging the metro stations at the new line with family members. Children were seen enjoying the metro ride. Some even tried to play once the train started moving. They were seen hanging from the handles on the rods.
Even before boarding the train, security personnel had to keep an eye on the children and people who had to be told repeatedly not to cross the yellow line on the platform.
Sources said that even though the train started operating only at 4 pm, people had got their tickets and were standing on the platform at 2 pm itself. Even on Monday, there was a huge line on the counters to get tickets for the metro ride.
It can be remembered that it took some time for the daily commuters to take the metro, as people enthusiastic about taking the metro ride were seen thronging the station at least for 10 days (especially on weekends) and the trains full to their capacity.
The same trend is expected to rule the new metro line too, where people will even stand in the long queue to get tickets to take their family members on a metro ride.
Here are the pictures of how people enjoyed the metro ride in the new Green Line.
*Photo Courtesy: Kannada Prabha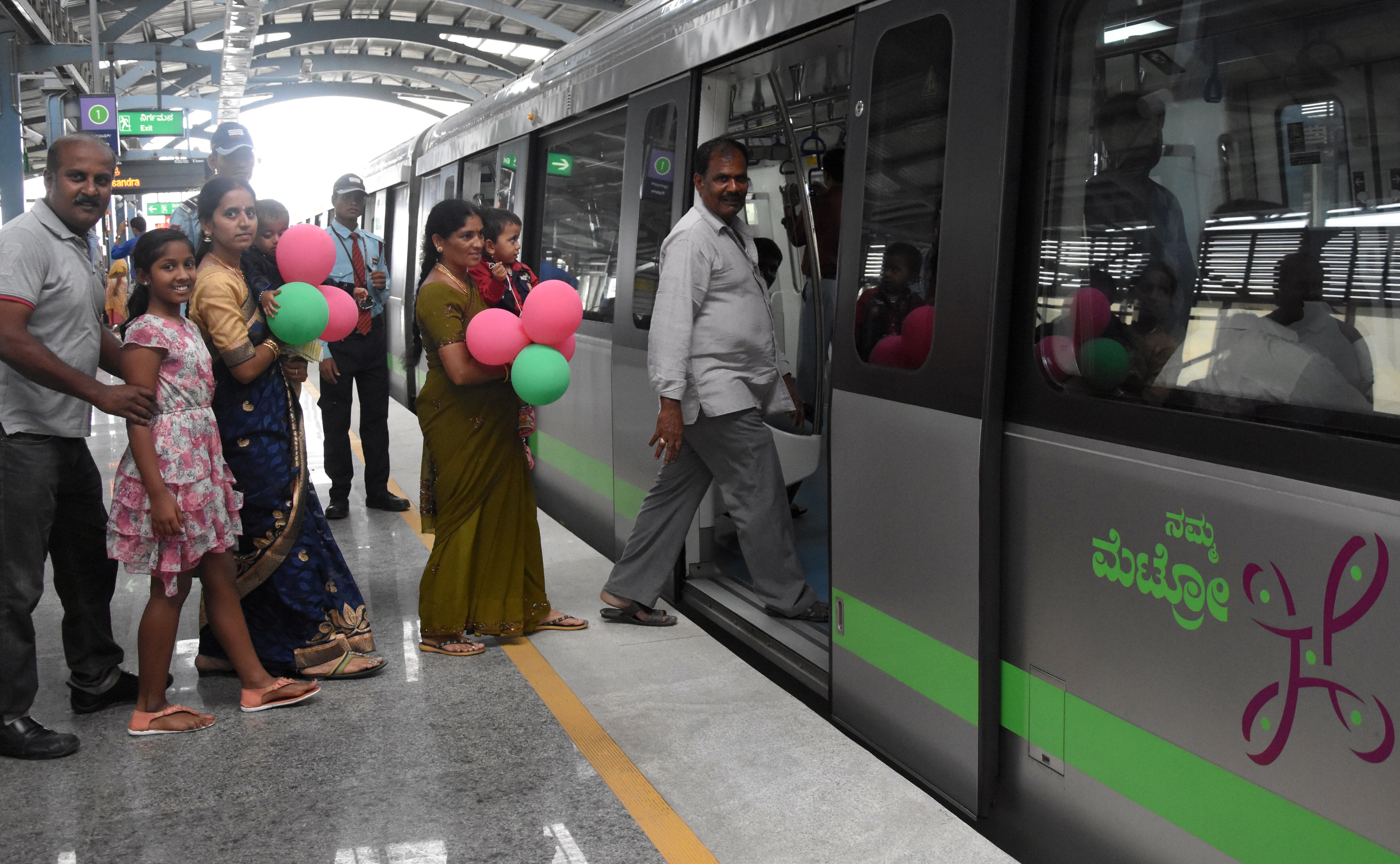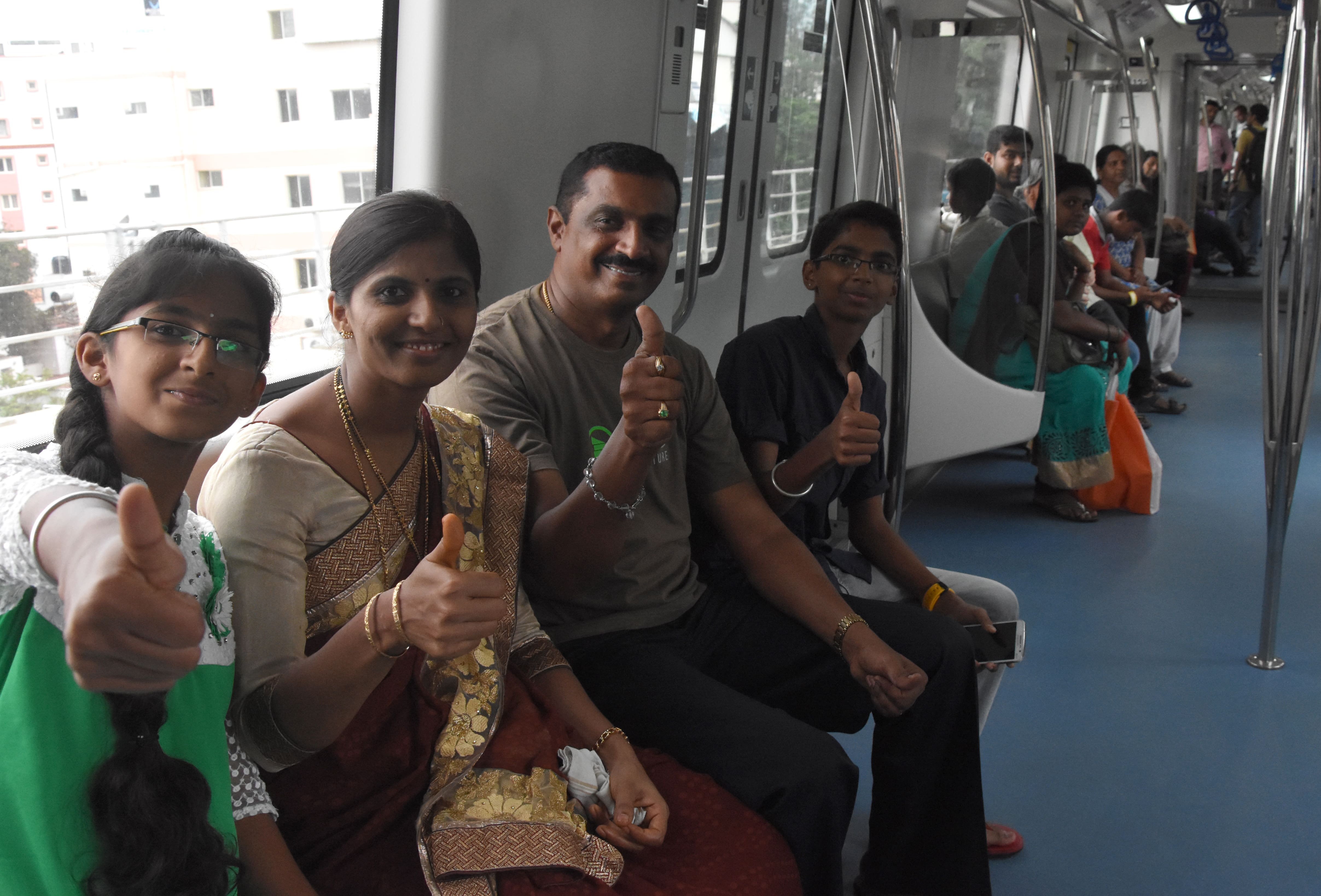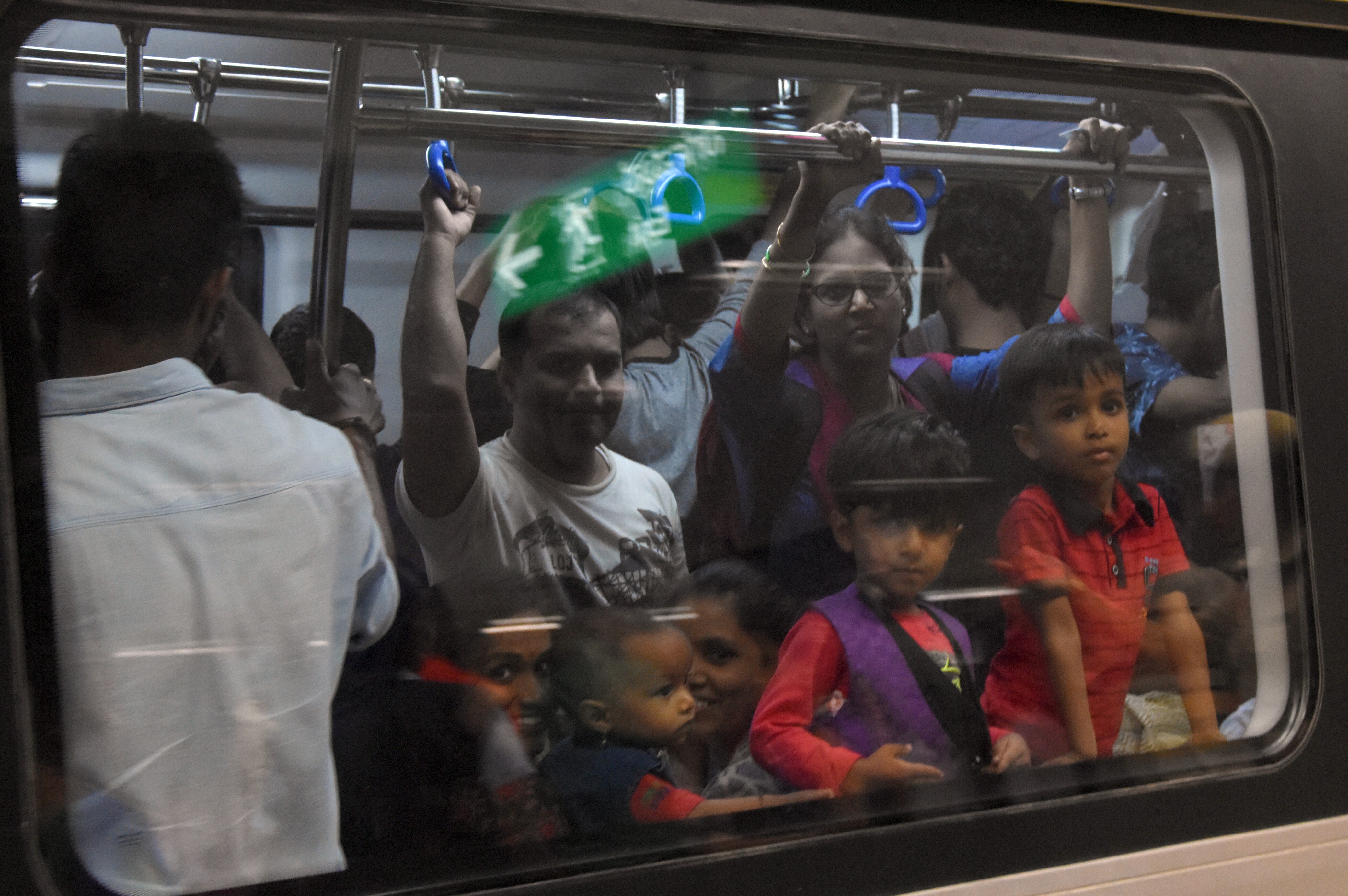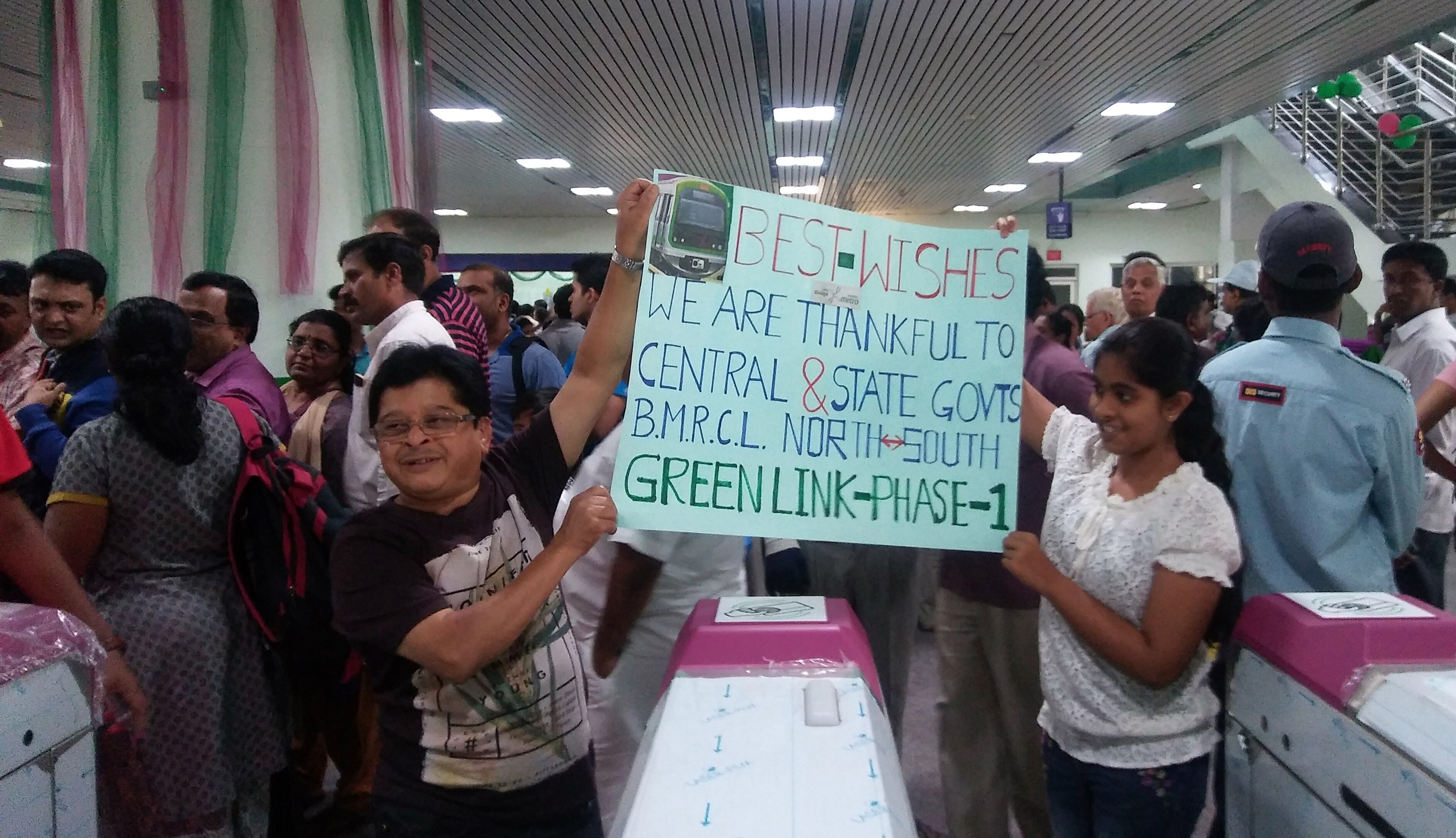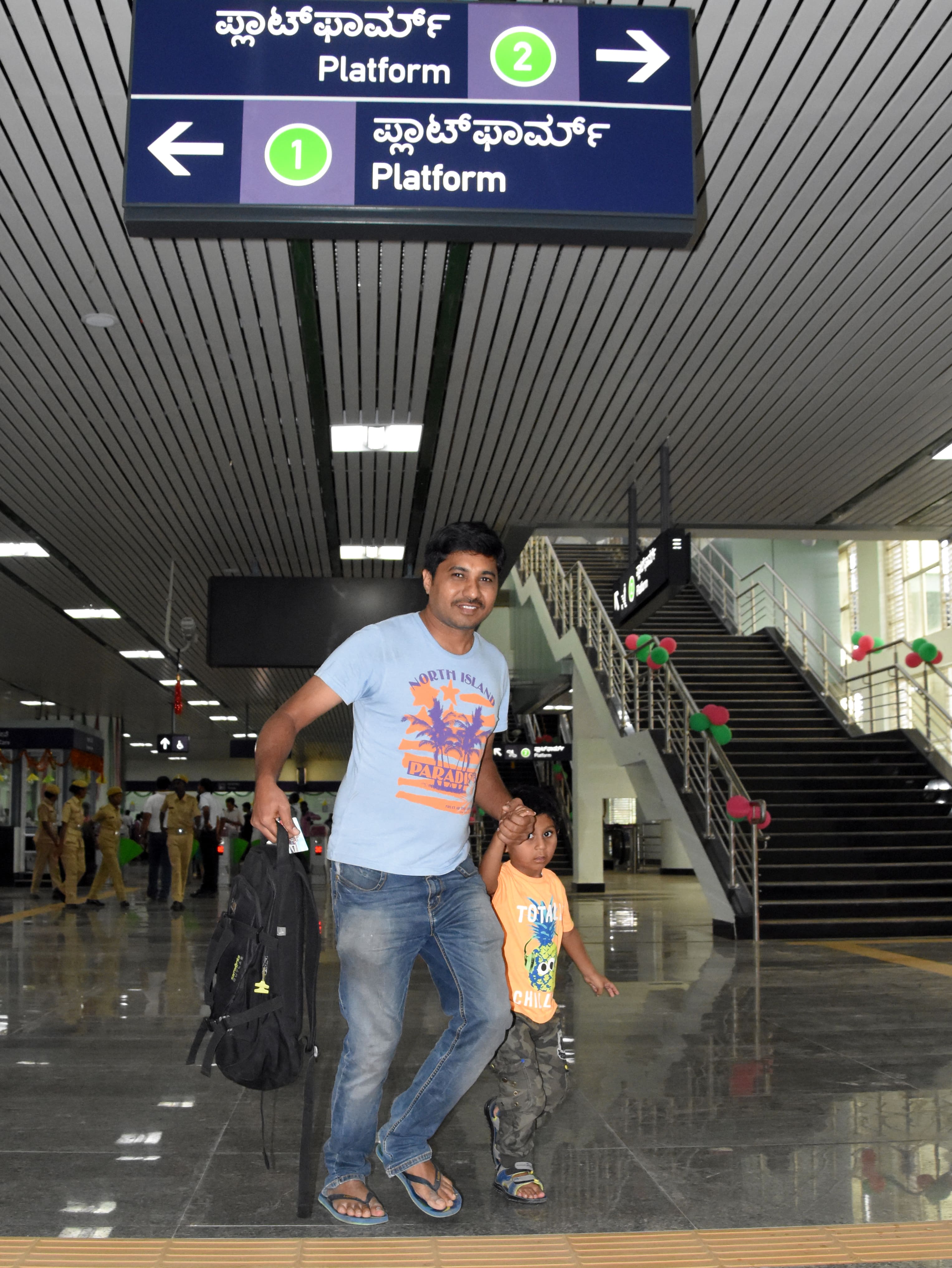 Here is how Twitterati enjoyed the Metro ride:
#South line of #Bengaluru #Metro opens to public at 4 pm today. commuters outside #Yelachenahalli metro station pic.twitter.com/9pZBOKkyCO

— Rohith BR (@rohithbrTOI) June 18, 2017
Banashankari Station on North-South line of #Bengaluru Metro Have Gopura (Ornate) which Depicts Popular Banashankari Temple @TheMetroRailGuy pic.twitter.com/Mf4JcLsS8f

— Manjunath Naglikar (@manjunathn2) June 14, 2017
Bangalore Metro | President Pranab Mukherjee flagged off Namma Metro Green Line -Click here to see more https://t.co/TGKvfcedCE pic.twitter.com/RKprRbPrid

— Metro Rail News (@MetroRailNewsIN) June 18, 2017
And the wait is over😊😊namma metro green line open for public today pic.twitter.com/GO4aywULhm

— RANJEET SINGH (@vats_jeet1993) June 18, 2017
BMRCL Namma Metro Green line in trial run in #Bengaluru. Will be open to public on 18th June. pic.twitter.com/FrEJwstDRt

— pushkar (@pushkarv) June 15, 2017
Video of Majestic Station on New North-South line of #Bengaluru Metro
Minister, Ofcrs of Bmrcl&Media visiting the new line @TheMetroRailGuy pic.twitter.com/L9G5g5mQOU

— Manjunath Naglikar (@manjunathn2) June 11, 2017
This is the Metro line
@RashtrapatiBhvn Will Inaugurate Sampige Road - Yelachenahalli Metro Line on June 17th #NammaMetro #Bengaluru
After Decade Phase1 Completd pic.twitter.com/Nf1pHfX3Ew

— Manish 🇮🇳 (@UrstrulyManish_) June 8, 2017
Last Updated Mar 31, 2018, 6:35 PM IST