Massive rally for Lingayata in Maharashtra
A massive rally was witnessed in Latur, Maharashtra, demanding to declare Lingayat an independent religion
A 3-km massive procession was taken out from the city stadium to DC's office
Over 70,000 strong gathering of Lingayats raised slogans in both Kannada and Marathi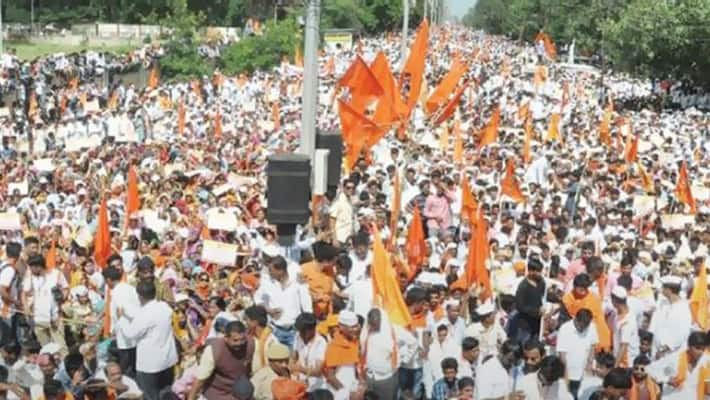 The agitation started in the State demanding to declare Lingayat an independent religion has spread to Maharashtra, now. A massive rally was witnessed in Latur, the border region of Maharashtra, reports Kannada Prabha.
Under the leadership of Lingayat Dharma Maha Morcha, in the presence of Dr Shivalinga Shivacharya, seer of Ahmadpura and Mathe Mahadevi of Kudalasangama an appeal was submitted to the government of Maharashtra to recommend to the Central government to accord Constitutional independent religion status to Lingayat. Centenarian seer of Latur, Shivalinga Shivacharya speaking on the occasion said Basavanna's inspiration is the reason for all Lingayats to unite and agitate for the cause. Karnataka Ministers MB Patil and Vinay Kulkarni also spoke on the occasion.
A 3-km massive procession was taken out from the city stadium to DC's office. Over 70,000 strong gathering of Lingayats raised slogans in both Kannada and Marathi. Thousands of rural folks sang Bhajans of Basavanna's Vachanas along the procession.
Shivalinga Shivacharya and Mathe Mahadevi were taken in a procession in horse drawn carriages. Other seers Jaya Basava Mruthunjaya  Swamy of Kudala Sangama, Belagavi's Naganuru mutt Siddarama Swamy, Bhalki mutt seer Basavalinga Pattada Devaru and others also participated. An appeal was submitted to the DC to recommend the Maharashtra State government to pressurise the Central government to accord an independent religion status to Lingayat.
Similar rallies will be held all over South India, stated Water Resources Minister MB Patil. He confirmed that next rally will be held at Kalaburagi on Sept 10 and later at Bengaluru. Plans are underway to hold rallies at Tamil Nadu, Kerala and Andhra Pradesh.
Speaking to newspersons in Latur, Mathe Mahadevi said those who oppose Lingayat an independent religion status must not aspire for contesting election under the Lingayat quota. She slammed BS Yeddyurappa for his silence. Religion is more important than party, she said. A delegation would be taken to the Chief Minister of Maharashtra to recommend.
At Raichur, Rambhapuri mutt seer Dr Veerasomeshwara Bhagavadpada said Veerashaiva Lingayat community is very poor and requires the facilities of minorities. Siddaramaiah should at least include Lingayata under 2 A category, he said.
Last Updated Mar 31, 2018, 7:06 PM IST