Mandya accident: bus falls into canal, 25 found dead
The bus which met with an accident was registered 17 years ago and was owned by Shrinivas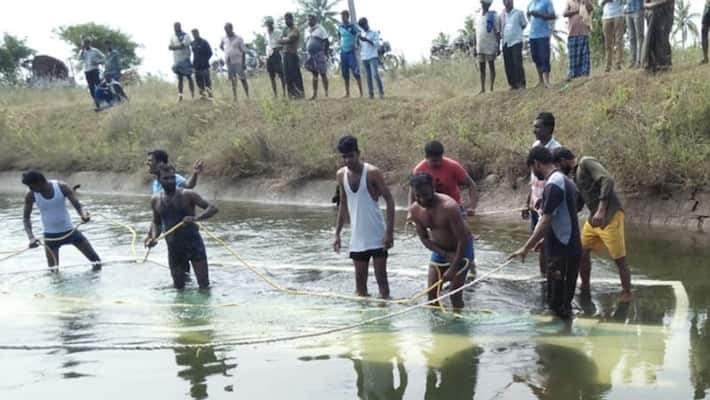 Mandya: At least 25 people lost their lives as a private bus fell into a canal near Mandya. President Ram Nath Kovind, Prime Minister Narendra Modi, Congress president Rahul Gandhi, MP Rajeev Chandrasekhar, Karnataka chief minister HD Kumaraswamy, former chief minister Siddaramaiah, BJP leader Shobha Karandlaje, Kerala chief minister Pinarayi Vijayan and other leaders have expressed shock and condoled the horrific incident.
The bus with about 40 passengers fell into the canal, killing 25 and washing them away in the water. Rescue teams are now trying to bring them to the shore. The driver of the private bus fled the place as soon as the bus fell into the water body.
Initially, it was said that only one boy, Rohith managed to survive, but now the latest updates state that another 12-year-old boy, Girish also survived the tragic accident. Rescue teams are still underway with their search for other victims, who are suspected to be washed away in the water.
"I was sitting on the last seat at the back when the bus fell into the canal. Suddenly water started gushing inside the bus. I was scared and opened a window and jumped outside. Everybody inside the bus were shouting. I saw another boy trying to come out of the window and I pulled him outside. Both of us were very scared and swam to the shore. Passersby started gathering as they heard people screaming,"  said Girish, one of the survivors.
Details of the bus:
The bus was registered under KA 19- A5676, owned by Shrinivas. The bus was registered in 2001 and was bought by a person from Mangaluru. Later, the bus was purchased by Shrinivas from Mandya. The bus was manufactured by TATA and also has a fitness certificate valid till May 15, 2019, along with an insurance and tax validity till May 15, 2019. 
Last Updated Nov 24, 2018, 6:53 PM IST