Bengaluru horror: Man beaten to death for talking to woman colleague
A 23-year-old garment factory employee was beaten to death by a gang of men
This gruesome attack was merely because he was talking to a female colleague
The woman was blindfolded and made to hear the cries of the man being beaten up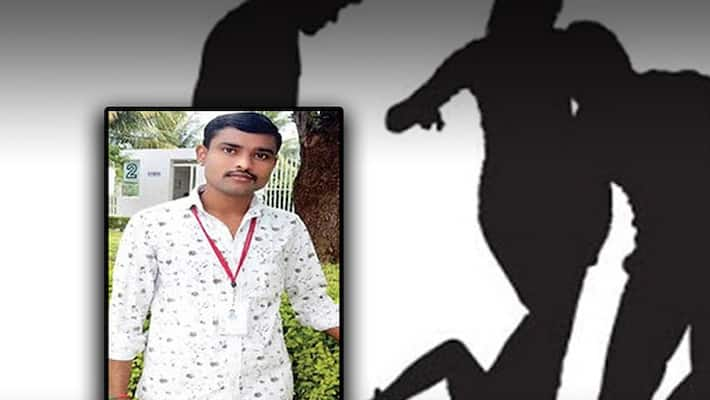 In a gruesome incident, a 23-year-old garment factory employee was beaten to death by a gang of men for talking to a female colleague at Harohalli in Ramanagaram on Sunday. 
It all started when Kumar alias Highlight Kumar hatched the plan to kill Hanumantha for talking to a woman he had a liking towards.
Bangalore Mirror quoted the police saying that Kumar had killed the man because he was jealous of their friendship. The woman is said to have been separated from her husband and living alone.
Kumar asked the woman to call Hanumantha from his native Belgavi. When he came to Bengaluru on Sunday, Kumar and six others took him to Harohalli and allegedly beat him with stumps and other blunt weapons. 
The group of men blindfolded the woman, tied her to a pole and was made to hear the victim's cries while he was being beaten. The accused also made the victim apologise for talking to her and was forced to say that he would not talk to her again. The accused also filmed the brutality, reported Bangalore Mirror.
Hanumantha, originally from Ramadurga in Belagavi, used to work in a garments factory in Harohalli. The woman, Rajini, was in a relationship with Kumar, but would go out for lunch and coffee breaks with Hanumantha.
"The victim had gone to his native for Deepavali. Kumar made Rajini call him and come to Bengaluru saying that it was urgent. Unaware of the plot, Hanumantha rushed to the city. Rajini too is said to have been unaware of the murder plot. The accused forcibly took the victim to one of the houses of the seven accused in Harohalli and started beating him for talking to Rajini. The accused even made the woman listen to the victim's cries. They later escaped. Rajini and a few others shifted Hanumantha to a private hospital. As his condition was critical, he was then shifted to Victoria Hospital, where he succumbed to the injuries on Monday afternoon," said an officer to Bangalore Mirror.
The police had initially registered a case of attempt to murder under section 307 of the Indian Penal Code (IPC) and had arrested three accused, including Kumar. After the victim's death, a case of murder under section 302 of the IPC was registered.
Last Updated Mar 31, 2018, 6:45 PM IST