KRV busted? Give us Rs 30 lakh, we will allow Sunny Leone to perform, say leaders [Watch Video]
The Karnataka Rakshana Vedike (KRV) had staged protest and threatened against actress Sunny Leone performing in Bengaluru citing cultural issues
Now an expose by India Today has revealed that KRV demanded huge money and promised to allow Sunny's programme
Here is what leaders of Gowda and Shetty's KRV factions demanded in return for guarding Sunny's programme in the city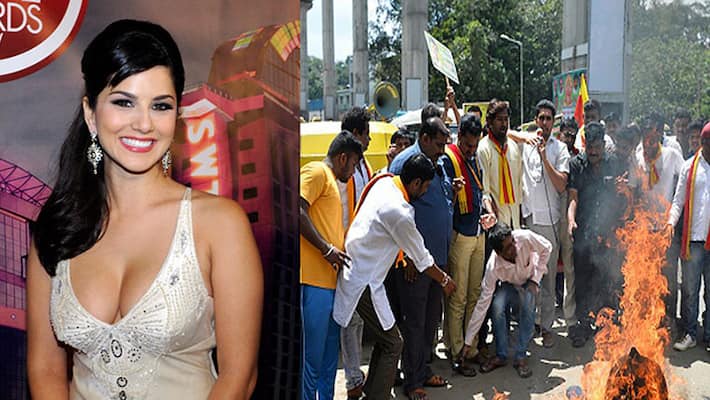 The Karnataka Rakshana Vedike (KRV) had staged a protest and threatened against actress Sunny Leone performing in Bengaluru on New Year's Eve. Bowing to the pressures, even the Karnataka government had banned the show. But now a new video by India Today has exposed these so-called pro-Kannada workers and here is the proof that KRV office bearers had demanded huge money to allow Sunny Leone to perform.
Watch video by India Today here:
There are two factions of Karnataka Rakshana Vedike, and leaders of both the groups were found to be demanding huge money to stop their protests and allow Sunny's programme, citing that it was against the Kannada culture.
Is this the way KRV plans to protect Kannada culture? Or have these two factions proved to be pseudo organisations, not working for Karnataka or Kannada but just for their own gains? Here is what the KRV leaders were caught saying about the Sunny show.
In the video, Anjanappa, vice-president of Narayan Gowda-led KRV faction, can be seen stating that they have the power to close down the entire state. He even said that if they want Sunny Night to be held, they wanted Rs 30 lakh in advance and Rs 10 lakh after the programme.
He further said that the issue has been discussed with the leader of the group Narayana Gowda and has his approval. Anjanappa also promised to be personally present there to monitor things.
In another expose, the video claims that R Ranjith, vice-president of KRV faction led by Praveen Shetty, also demanded Rs 30 lakh to provide protection from untoward situations and to allow Sunny's programme in Bengaluru. He even promised to arrange for 300 KRV members who would give protection to the entire programme. He demanded Rs 15 to 20 lakh in advance and the rest to be given soon after the programme.
Last Updated Mar 31, 2018, 6:57 PM IST