Karnataka private doctors' strike: How medicos 'killed' 12, and more will die out of sheer apathy
The doctors have continued their protest for the second day against the KPME Bill
As a result, treatment at private hospitals remained inaccessible to patients leading to 10 deaths in the State on Tuesday
Doctors are regarded as "Next to God" but now they seem to be more worried about their future than the health of the patients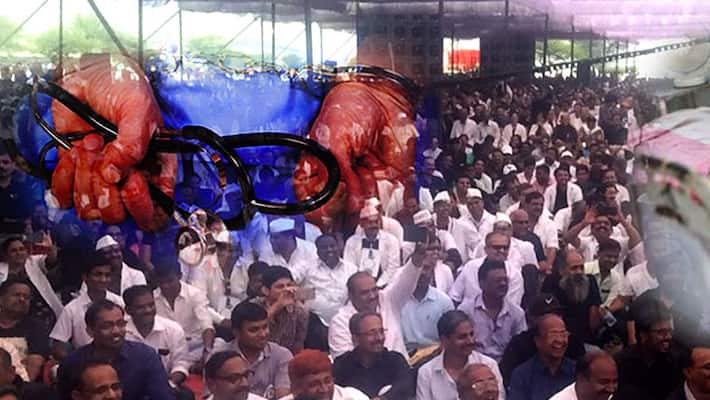 Nadeem Pasha and Farhana couple from Hassan had rushed their three-month-infant Ibrahim to a district hospital in Tiptur as he was suffering from breathing problem. But to their dismay, their baby shown no improvement. Not wanting to take any risk, they decided to bring him back to their native, Hassan and show him to doctors at the district hospital. But Ibrahim breathed his last, before he could reach the hospital.
Also read: Why State government is right in regulating private hospitals
Even the case of one-and-half-year-old Saayina from Byadgi, Haveri district was no different from that of Ibrahim. After lunch, Saayina began to throw up as her food pipe was reportedly blocked. Fearing, her parents rushed her to a private hospital in town. But not finding any doctors over there, the parents shifted her to a district government hospital. But the little Saayina too could not survive.
These two little children were among 10 unlucky ones who lost their lives as both State government and private doctors refuse to budge over the controversial Karnataka Private Medical Establishments Act (2017) amendment that is expected to be placed before the winter session in Belagavi.
Take the case of Shwetha of Ingalgaon, Athni taluk Belagavi district. Shwetha was suffering from hyper diabetes. Since they could not find any private doctors in their village, they had brought her to Athani taluk district government hospital. But Shwetha passed away allegedly due to lack of proper treatment. Another victim, Mahesh Waghmore of Athani was grievously injured in an accident. But with no proper treatment on time, he breathed his last in Athani hospital.
Also read: Refined KPME bill: No fresh provision on imprisonment of doctors but monetary penalties 
The list does not end here. Jyothi, a nursing college student of Tumakuru collapsed while returning home. She was rushed to a private hospital. But not finding doctors over there, she was rushed to Tumakuru government hospital. But she died en route.
Even Gyanappa Badnal (56) of Mukkumpi in Gangavathi taluk of Koppal district was taken to a private hospital in Gangavati for some ailment. But there were no doctors there. Their search for doctors in two more private hospitals too went in vain. Hoping against hope, Bandal's family members shifted him to Gangavathi government hospital. But he too died midway.
The others who lost their lives were Shrishail Ambi (12) of Athani, Vaishanavi Jadhav (12) of Dharwad, Basavaraj Digadur of Kaginele, Haveri district and  Narasappa (54) of Bagepalli in Chikkaballapur district.
Doesn't these deaths amount to murder? At a time when the doctors are regarded as "Next to God" by the patients, they are busy protesting for their future claiming the KPME Bill as "draconian".  
Also read: Is fear of losing out on revenue making private doctors protest the Medical Bill?
The bill which has been modelled on the West Bengal Clinical Establishments (Registration, Regulation and Transparency) Act 2017, proposes to rein in on the private hospitals to make them accountable to the government.  While it was earlier reported that the doctors would face imprisonment for charging excess fees, the government has done enough to allay the fears of them on the jail clause.
But it is the sheer misinterpretation of the bill that has kept the doctors' protest on, observed Dr Akhila Vasan of Janaarogya Andolana Karnataka. "Only the unregistered doctors and medical institutions would be penalised, not how the protesting doctors have perceived it. It's absolute distortion of the facts of the bill that is being spread among the doctors," said Dr Akhila. She blamed the Indian Medical Association for systematically and deliberately spreading false information through rigorous campaign and WhatsApp messages to keep their "interests" afloat.
Their protest at the cost of lives is nothing but an attempt to escape from being accountable to the government regardless of people's welfare. The government should not bow down to the protest, urged Dr Akhila.
Last Updated Mar 31, 2018, 7:04 PM IST