KPCL power project set to kill two more of Bengaluru's lakes
The Jakkur and Rachenahalli lakes were redeveloped by the BDA between 2008 to 2012.
The natural inlets and channels of the lakes were closed. A Sewage Treatment Plant fills water into the lakes now.
But if the STP feeding the lakes is diverted to a power plant, what about the lakes?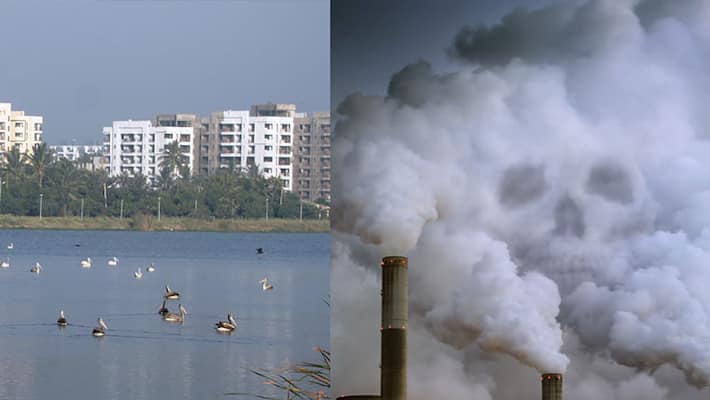 Residents and activists are up in arms against the Karnataka Power Corporation Limited (KPCL) thanks to a new power plant project in Yelhanka.
The project, a thermal plant, is planned to draw cooling water from a Sewage Treatment Plant (STP) that feeds the twin lakes of Jakkur and Rachenahalli.
But thanks to the BDA's re-development in 2012, the STP is the only source of water for the lakes. What will happen once this lone source of water is lost? The residents wonder. 
The 160-acre Jakkur Lake was once a natural lake with several water inlets. One kilometre down the road lies the 140-acre Rachenahalli lake.
Both lakes were cleaned, fenced and developed by the BDA between 2008 and 2012, under a joint understanding with the BWSSB. 
In the redevelopment, all water inlets to the Jakkur Lake were diverted to the STP, which became the sole source of recharging water from the lake. Once water fills up Jakkur, it overflows through a culvert and reaches Rachenahalli. 
This reality of the lake eco-system is precisely what worries activists. "The recent development of the Power Project by the KPCL has raised concerned about the survival of the twin lakes. Water from the STP will have to be diverted to the power plant situated at Yelhanka. There will be no water in the lake if the STP's water is diverted. The lake and its eco system will die very soon," said Dr Annapoorna Kamath, from Jalaposha Trust. 
IISc professor (retired) and Yelhanka Puttenahalli resident Sangunni has expressed similar concerns."Not only Jakkur and  Rachenahalli, but the ecosystem at Puttenahalli lake will also suffer as massive construction is going on at the wetlands of the lake to facilitate the project," he said. He also lamented that for this particular project, the KPTCL did not even invite the public for consultation. 
A non-existent waste water policy is being perceived as a major reason for such upheavals, especially when dealing with sensitive ecologies.
"Locals have to be taken into consideration as the STP's treated water rejuvenates lake, recharges ground water and borewells, making it near public property. There should a policy which should decide how much an industry should take and how much should it belong to common people," said Ram Prasad, Convenor, Friends of Lake Group.
Whether the KPCL will listen to their pleas remains to be seen. 
Last Updated Mar 31, 2018, 6:48 PM IST