Kodi Mutt seer predicts death of a national leader akin to that of Lal Bahadur Shastri
Kodi Mutt seer Shivananda Shivayogi Rajendra Swamiji is quite popular for his near-accurate predictions in Karnataka
It was him, who had predicted that BJP would come to power in Karnataka and it indeed came true in 2008
His recent statements that no national parties may come to power this time has created a lot of buzz in the state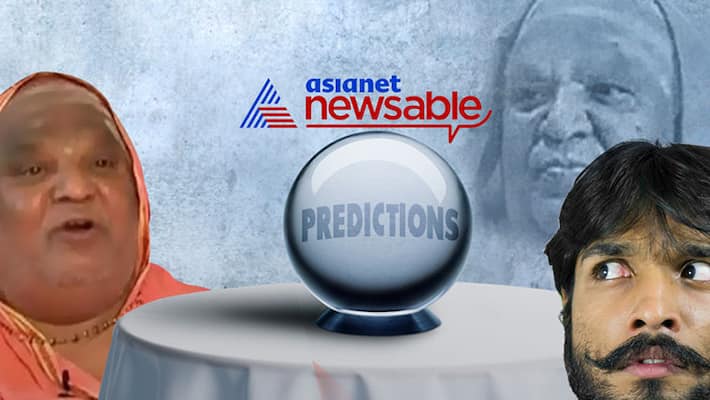 Prophecies, especially made on the political situation, grab headlines, at least in Karnataka. And, whenever, Kodi Mutt seer predicts, everyone takes note of it, thanks to those predictions becoming a reality.
Recently, Kodi Mutt seer Shivananda Shivayogi Rajendra Swamiji made certain predictions - especially with Karnataka politics that is already creating a lot of buzz in the political circles. In fact, a few months ago, the seer had stated that he would not comment on the state politics for another two months. However, speaking to mediapersons on Monday, the seer stated that no national parties would stake claim to the power and no leader from these parties would be the chief minister this time. If one goes by his predictions, it appears that both Congress and JD(S) - national parties - may not be lucky, this election. In the absence of these national parties, it appears that JD(S) may emerge stronger and HD Kumaraswamy could be lucky, for the second time. 
Apart from this, the seer has also predicted the country would witness the death of a prominent leader akin to the mysterious death of former prime minister Lal Bahadur Shastri. He has also warned that two super powers would be at war and also many would die of poisonous gas. Already, the United States and North Korea are at loggerheads, and there are many reports where people are dying due to poisonous gas. 
While there may be many who might scoff at the seer's predictions but time and again, it has been reported that the seer was near accurate with his predictions.
Check this. In 2008, the seer had predicted that the Saffron party would come to power. Like his prediction, the BJP had come to power and Yeddyurappa had become the chief minister.
Also, in 2009, the seer had reportedly hinted at the troubles that Yeddyurappa may face by May and had also claimed that the government would be collapsed by December. And, just as his saying, the Yeddyurappa government indeed faced troubles from Reddy brothers and how the chief ministers changed in the party is the part of the history.
Unlike the other seers, the Kodi Mutt seer does not predict by looking palm or horoscope. But he reads through the palm leaves that reportedly has the genealogy and destiny of every individual, reports Bangalore Mirror.
The mutt located at Harnalli village near Arasikere in Hassan district is one of the most frequented by politicians. Quoting sources, Bangalore Mirror had reported that Indira Gandhi whose political future was volatile after an Emergency period was suggested by Kodi Mutt seer to contest from Chikamagalur constituency, which eventually gave her political rebirth. Not just that he had even predicted Indira Gandhi's assassination. Besides, he had told LK Advani - who had come to see him during the Lok Sabha elections - that he would not become the prime minister, reports Bangalore Mirror. Such was the accuracy of his predictions.
Last Updated Mar 31, 2018, 6:31 PM IST