Karnataka elections 2018: PM Modi in Kalburagi makes an emotional appeal to change the government in Karnataka
PM Modi was addressing a public rally at Kalburagi in north Karnataka. He started his speech and also ended it in Kannada. He spoke about Dalits, farmers, common people, soldiers and told how Congress has cheated them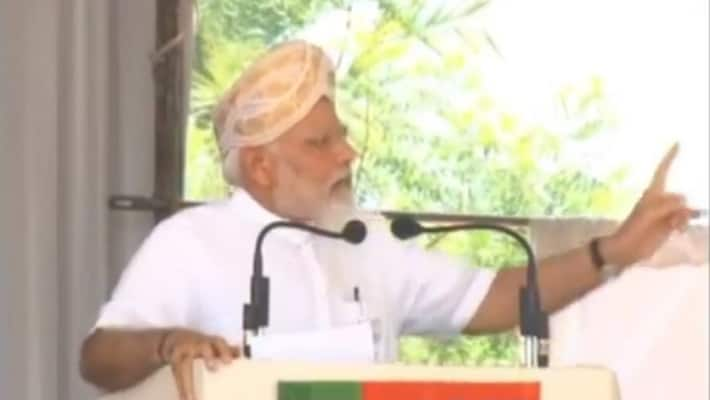 Prime Minister Narendra Modi made an emotional appeal to change the government in Karnataka in his public campaign in Kalburagi, north Karnataka. He spoke about soldiers, farmers and also common people and lashed out at Congress for not doing anything for the people of Karnataka. He started his speech in Kannada and also ended it with an appeal to change the government in the Kannada language.
Here is what PM Modi spoke in his speech.
The Karnataka elections on May 12 is not to elect the MLAs but to change the future of Karnataka, change the future of youths and farmers.   
Congressmen addressed soldiers as rowdies following the surgical strike. Do you need proof against the service of the Indian Army? Should our soldiers carry a camera to give the proof of their achievement? Only Congress can question the service of the armymen guarding our borders.
The then Prime Minister Jawaharlal Nehru even insulted General Cariappa and General Thimmaiah and they were made to resign forcefully. The youths of Karnataka should not forget this insult to the armymen.
Farmers should get their due. The Centre has prepared a roadmap for the production of tur dal but Karnataka Congress government is not responding to their demands. In fact, the Karnataka government is not even making use of the Minimum Support Price provided by the Centre. So, Congress will not give you anything. Yeddyurappa who has devoted his life for the welfare of farmers will lead them and give them all their rights.
According to Swaminathan Commission, the Centre is giving 1.5% MSP to the produce. Whenever I speak about MSP, Congress is disturbed because the report was kept inside the cupboard and Centre made it a reality.
We have brought in at least 100 schemes which were in papers for 40 years. Pradhan Mantri Phasal Beema Yojana is one such scheme but Karnataka is not even making use of it. In the coming days, when BJP government is formed, Karnataka will benefit from the scheme, especially its farmers.
Congress leader Mallikarjun Kharge is using the Dalit card. In the last election, Kharge, a Dalit leader was not made the chief minister.
Last Updated May 3, 2018, 2:56 PM IST