Karnataka: Congress MLAs to meet Governor, to be shifted to Eagleton Resort [Watch]
Congress MLAs are going to Raj Bhavan and after showing their strength are allegedly being taken to Eagleton Resort to keep them away from poaching by the BJP. Party leader DK Shivakumar is said to be given the task of keeping the MLAs safe.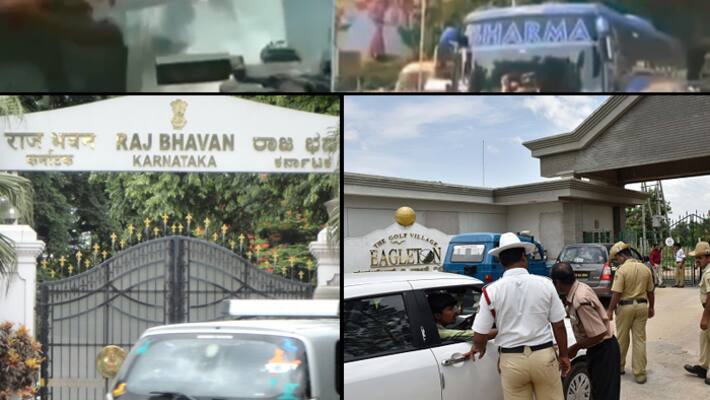 Congress MLAs are being taken to the Eagleton Resort in Bengaluru to keep them safe from poaching. The MLAs have been made to board buses to go to the Raj Bhavan. Even JD(S) MLAs will reach Raj Bhavan to show their strength and majority needed to form the government. HD Kumaraswamy and JD(S) MLAs have left to Raj Bhavan from ShangriLa Hotel in Bengaluru.
Energy Minister DK Shivakumar and KPCC President Dr G Parameshwara have been given the task of keeping the MLAs safe inside the resort. The buses took the MLAs from Karnataka Pradesh Congress Committee.
The MLAs will be paraded in front of the Governor to probe the majority and then will be taken to Eagleton Resort.
One of the Congress leaders said that all the MLAs and MLCs of the party apart from Anand Singh were with the party. A letter of support (majority) signed by the MLAs will be submitted to the governor.
However, there are also reports that some MLAs are missing and have not signed the memorandum.
Meanwhile, the Congress has also said that if despite all this, Governor invites BJP to form the government, the party will stage day and night protest and will challenge this decision in the Supreme Court.
It can be remembered that DK Shivakumar had successfully kept the Gujarat Congress MLAs safe in Bengaluru even braving the IT raid on him.
Congress and JD(S) have submitted the signatures to the Governor and have asked him to invite them to form government. Meanwhile, it is said that 102 rooms have been booked for the Congress - JD(S) MLAs in the Eagleton Resort in Bengaluru. 
Last Updated May 16, 2018, 6:17 PM IST