Show 50,000 Likes on Facebook to earn BJP ticket for election
The party will consider social media presence of the aspiring contestants as the main parameter
The ticket-hopefuls need to have 50,000 likes on their Facebook page and at least 5,000 followers on Twitter
Yeddyurappa leads the race with 1.57 lakh followers on Twitter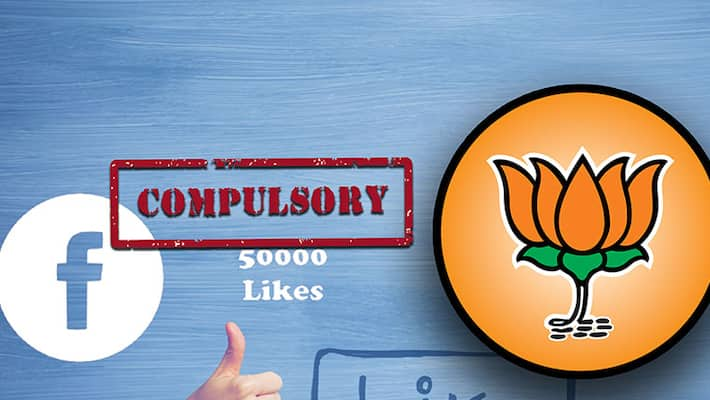 What should be the criteria to get a ticket to contest election? Apart from one's popularity, one should have at least 50,000 likes on their Facebook account. Yes, that's exactly what the BJP party leaders have set as a significant parameter to deserve the party ticket in the upcoming election.
Considering the power of social media, the BJP leaders have been insisting the party leaders get on to the social media. Earlier, the candidates (for election) were decided based on the popularity and also the number of followers they claimed. But now, even the followers on social media matters a lot, reports Vijayavani.
In fact, the BJP was gripped by the social media fever after prime minister Narendra Modi began reaching out to the people through his social media accounts. On Twitter, Modi is followed by 36.7 million people on his Twitter account. This speaks for his popularity on the digital platform, too.
This apparently had been considered as one of the parameters by the BJP during the Uttar Pradesh election. It is reported that the BJP high command Amit Shah had made it mandatory for the contestants of UP election to have at least 25,000 likes on social media and a minimum of 2,000 followers on the Twitter account. This resulted in UP BJP leaders too going digital with an eye on bagging a ticket. It is needless to say, the impact of this direction in Uttar Pradesh. BJP is in power in Uttar Pradesh.
In view of this, the party has reportedly decided to make social media presence mandatory for the candidates. It is reported that Amit Shah has issued strict directions for aspiring candidates in Karnataka too. The aspiring candidates must have earned at least 50,000 Likes on their Facebook page, and they should have a minimum 5,000 followers on their Twitter account. Not just these, they should be aggressively active on social media by updating, posting or commenting on party programmes.
The party will keep a close tab on these parameters which will be considered while choosing the candidates for the upcoming Assembly election.
In Karnataka, several BJP leaders are quite active in social media. The party's chief ministerial candidate BS Yeddyurappa, however, has pushed behind other leaders in social media popularity. Yeddyurappa's official twitter account is followed by 1.57 lakh people and has earned 1.7 lakh Likes on his Facebook page. In fact, Yeddyurappa is the most active when considered with Chief Minister Siddaramaiah and JD(S) State president Kumaraswamy. Chief Minister Siddaramaiah is followed by 21,900 followers and has 57,500 Likes on his Facebook account, while JD(S) leader Kumaraswamy does not have an official social media account. He reportedly changes his social media account during every election.  
Last Updated Mar 31, 2018, 6:33 PM IST