It is an insult not to learn Kannada while living in Karnataka: CM Siddaramaiah
We must love non-Kannadigas but not those who refuse to learn Kannada, says CM Siddaramaiah
The government is planning to implement special programmes to create an atmosphere to learn Kannada and to create pride in parents
A portal 'Kannada Sourabha' was launched to help non-Kannadigas to learn Kannada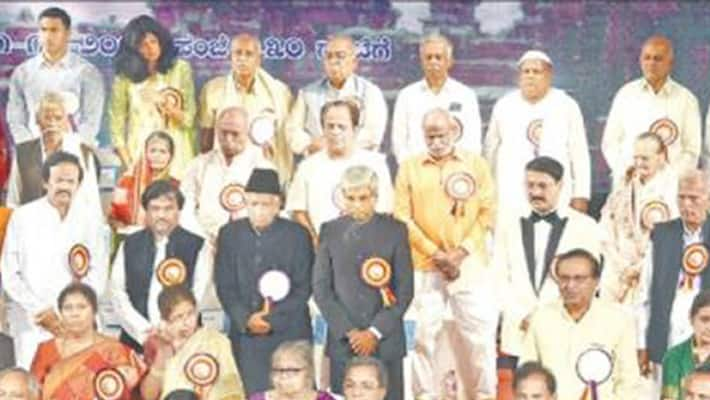 All those who reside in Karnataka are Kannadigas and it is an insult to the State if they don't learn Kannada. Non-Kannadigas must make a determination to learn the language of the land, said Chief Minister Siddaramaiah, reports Kannada Prabha.
He was speaking after hoisting the flag at Kanteerava Stadium on Wednesday on the occasion of Karnataka Rajyotsava. He said everybody who lives in Karnataka must feel that they are Kannadigas first and then Indians. 'We have failed in creating a Kannada atmosphere in the State. We must love non-Kannadigas but not those who do not learn Kannada," he said.
In his entire speech, Chief Minister elaborated on protecting Kannada language in the State, medium of education, significance of English in the current circumstances and equal education. Compared to the speech of the previous chief ministers, Siddaramaiah's speech was steeped in promoting the language and culture of the land.
He questioned why parents who compete to get a seat in government medical colleges hesitate to admit their children in government school and Kannada medium schools? "Parents showing excessive love for English is not a good trend. Only when a person learns in his or her mother tongue can one express effectively," he said. Sir M Visvesvaraya, Dr CNR Rao studied in Kannada and became well-known engineer and scientist. "I also studied in Kannada medium and became a chief minister," he said. Parents think only English education makes their children intelligent. Even government schools are offering quality education, he asserted.
The Supreme Court has ruled that the parents should decide the choice of medium of instruction. The Chief Minister said he has written twice to the Prime Minister to issue an amendment to this and to give prominence to regional languages. The Kannada Development Authority chairman had brought to the notice of the CM that a private school is imposing Rs 500 fine for speaking in Kannada at the school. Stringent action will be taken against such schools, he warned.
The CM declared that he loves and respects Kannada but does not hate other languages. The government is planning to implement special programmes to create an atmosphere to learn Kannada for non-Kannadigas.
Primary and Higher Secondary Education Minister Tanveer Sait said a Memorandum of Understanding (MoU) has been signed with the 8000 weavers in the State to supply uniforms to the school students. Textile will be purchased from State weavers to the extent possible, he assured.  The 21-point recommended in the empowerment of government school committee report will be discussed at the cabinet and probable points will be implemented. On a trial basis different flavoured milk is being distributed under Ksheera Bhagya at Mysuru and Raichuru, Sait said.
On the occasion a website to learn Kannada "Kannada Sourabha" was also launched to help learn Kannada and to create awareness about Kannada to non-Kannada speakers. It has been linked to the Public Education Department website.  
Last Updated Mar 31, 2018, 6:38 PM IST