Praveen Sood's 'anti-Kannada' stand led to his transfer?
Pro-Kannada activists were recently taken into custody for blackening Hindi boards in Metro stations
Commissioner Praveen Sood had warned the Kannada activists from taking law into their hands
Kannada activists had demanded action against Sood for booking cases against Kannada activists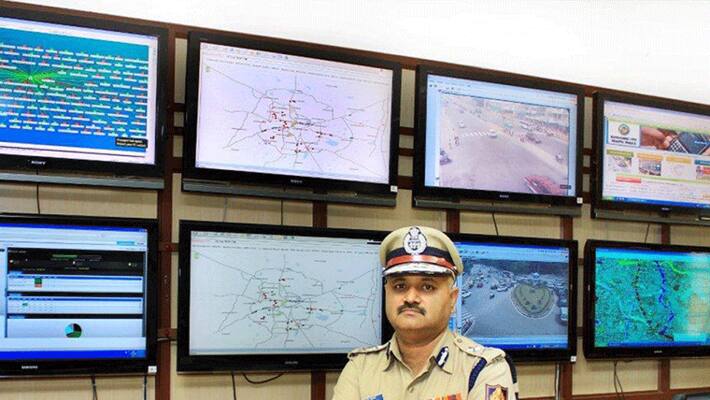 The Siddaramaiah government has shunted out City police Commissioner Praveen Sood for his alleged anti-Kannada stand and has appointed T Sunil Kumar in his place on Monday. Sood becomes the third police commissioner to have served for a minimum period in the City. Sood was in the office only for seven months.
It may be recalled here Police Commissioner Praveen Sood had reportedly warned pro-Kannada activists from blackening Hindi boards in Metro stations. Sood had said that "The activists have all the rights to fight for issues over language or any other issue. The police will support them if they do so within the ambit of law and order. But anyone taking the law into their hands will not be tolerated and stern action will be taken."
Last week, the police had filed cases under Section 153A against 36 pro-Kananda activists including Narayanagowda, the president of Karnataka Rakshana Vedike (KRV) after he and others blackened the Hindi boards in Metro stations. This was strongly condemned by Kannada activists and writers including Chandrashekhar Patil and Satish Belavadi who had launched 'Sood Hatao' movement, reports Kannada Prabha. Chief Minister Siddaramaiah who is strongly advocating for Kannada in the administration had reportedly taken objection to Sood's anti-Kannada stand. This reportedly effected Sood's transfer.
KRV president Narayana Gowda appreciated the government's swift move to transfer Praveen Sood. "We had demanded the government to take action against Sood for his anti-Kannada stand. CM Siddaramaiah has responded to our pleas. This shows Siddaramaiah government's pro-Kannada stand," reports Kannada Prabha.
However, Praveen Sood reacted that both his appointment as commissioner and now transfer were unexpected. "I am not aware my transfer was due to Hindi-Kannada row. This issue is left to the government," reports Kannada Prabha quoting Sood. Sood has posted as ADGP in the Communication, Logistics and Modernization wing of the department — a non-executive post.
Last Updated Mar 31, 2018, 6:55 PM IST