Meet BBMP's newest recruit to help keep Bengaluru garbage free - Lord Shani
Despite awareness, people continue to throw garbage by the side of the road
Even a stringent warning of fine would not dissuade them
But a banner apparently put up by BBMP Commissioner too relies on Lord Shani for clean Bengaluru!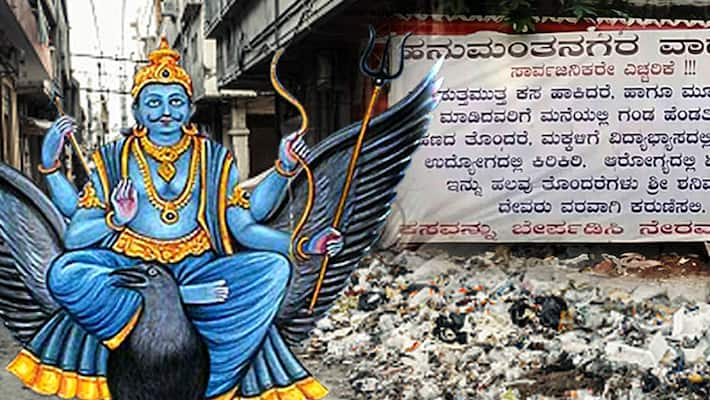 The Bruhat Bengaluru Mahanagara Palike (BBMP) may have come out with innumerable ways to keep the City clean. From pamphlets to appeals on social media to public announcement - a recorded message that plays out whenever the garbage collection van arrives at your door step - to collect fine, the BBMP has done it all. Not to speak of the aggressive campaign of the Swachch Bharat where even our popular leaders swept the roads and sometimes even picked up the garbage, to inspire the lesser mortals.
Yet, nothing worked, and as you read this, someone might be throwing waste by the side of the road in your area. So, is there a no solution to tackle this mindset?
Apparently, Lord Shani has the way. In many places in Bengaluru, the residents have put up an image of Lord Shani at 'garbage spots' warning people that Lord Shani will 'bless' them if they dare to throw garbage. And this has worked wonders. What more, a banner with the same image has been apparently put up by BBMP Commissioner, or at least the banner says so. 
Last resort for #Bengaluru public, using Shani Bhagwan image BBMP threating 😂Banner says If u spill d garbage I will come& reside in Ur home pic.twitter.com/yOqthTb6Xd

— S.Vasudeva Murthy (@svmurthy) May 26, 2017
Sample this. At Hanumanthnagar, near Maruti Circle, a stretch behind Ganapathi temple had turned out to be a garbage spot. People would mindlessly throw garbage here, and the appeal by residents went in vain. "Most of them would throw garbage during the night. This place would stink to no end," said Bharat Kumar, a resident of Srinagar, adjacent area. There were efforts by some private firm to clean up the area. But this too did not stop from garbage piling up. However, one day, the banner with the image of Lord Shani and the warning has come up. "It has been there for almost three months now. Since then, the stretch is clean. The 'warning' seems to be working wonders," said Bharat.
In fact, there were times when people would emboss the images of deities in tiles that would be put up on the pavements or empty spaces to instil fear among people from throwing garbage. But people seldom cared for these deities.
But now, no one wants to invite the wrath of dreaded Lord Shani, the Lord of Justice, as he is known to bring severe hardships if you are on the wrong side. To this day, people get their horoscope checked if their planetary positions are safe from "Shani" or the Saturn. The 'Shani dese' (Shani period) or 'Sade Saath Shani' (The seven-and-half period of Shani period) are still perceived (by at least god-fearing people) as one of the lowest points in their lives. They believe that if Shani enters their lives, their lives will go to dogs. Hence, no one wants to be 'affected' by Lord Shani.
But religious texts and mythological stories will clarify on this. Shani gives people their due according to their karma, without any discrimination. Hence he is the Lord of Justice.
However, the fear of Lord Shani's 'blessings' seems to be working wonders in Hanumanthnagar and several other localities in keeping the City clean, if not anything. Did this 'inspire' the BBMP to go to 'Lord Shani' for clean City, we wonder.
Last Updated Mar 31, 2018, 6:47 PM IST