Who is Sukesh Chandrashekar, the Bengaluru conman, who duped Dinakaran of Rs 60 cr?
Sukesh Chandrashekhar is just 27-yr-old but already faces 15 FIRS
He allegedly tried to strike a deal with TTV Dinakaran to get the Two Leaves party symbol for Rs 60 crore
Sukesh is a native of Bengaluru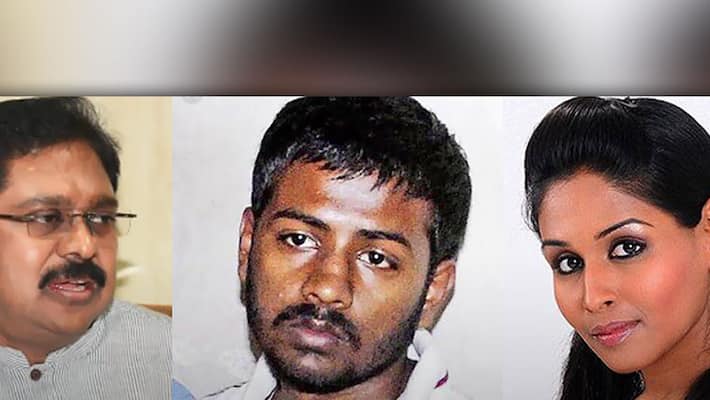 Twenty-seven-year-old Sukesh is no novice to crime world. His tryst with crime began at the age of 17 in Bengaluru. Aiming to lead a lavish lifestyle, he duped people of several crores in Bengaluru and Chennai. 
So, who's this Sukesh Chandrashekhar?
A resident of Bengaluru, Sukesh studied at Bishop Cotton School on Residency Road. He would pose as a kin of politicians and cheat innocents to the tune of crores by promising them government jobs or properties. He would buy expensive cars from the extorted money. His collection of cars also included Rolls Royce. On Monday, the Delhi police have seized expensive cars from him.
Sukesh alias Balaji was first arrested by Bengaluru police in connection with a cheating case in Bengaluru Development Authority. Posing as a relative of a politician, he is said to have duped more than 100 people promising to get their job done. According to the police, he cheated them to the tune of Rs 75 crore. 
Sukesh also conned a spa owner and a comedy actor of Rs five lakh after allegedly promising them to purchase government cars for lesser prices. In Tamil Nadu, to make-believe his targets, Sukesh would usually travel in a car with beacon and claimed that he was the son of then Chief Minister M Karunanidhi.
Sukesh and his girlfriend Leena Maria Paul were arrested for cheating Canara Bank in Chennai in 2011. Although, she learnt about his background, she stayed with him, thanks to his lavish lifestyle. He came out on bail but did not mend his ways.
Sukesh had promised a Kochi-based Emmanuel Silks to bring in Bollywood actor Katrina Kaif for a promotional programme and he had even taken Rs 20 lakh from them. However, he brought Telugu Super Star Allu Arjun for the showroom's inauguration in Kottayam. "He won our confidence and promised to bring in Katrina Kaif. But after sometime, he just vanished. Although, we had complained to the police, they could not track him down," said Emmanuel Silks MD TO Baiju, reports Indian Express. 
Sukesh dropped names to get his way out. He would pose as grandson of M Karunanidhi, son-in-law of MK Alagiri, son of TR Baalu, K Anbazhagan, Karunakar Reddy and of Sudhkar Rao, former Karnataka Chief Secretary. Not just that, he has duped many people posing as nephew of YSR Reddy and secretary of BS Yeddyurappa. There are reports that he had presented a friend as Kumaraswamy's son. 
Sukesh does not have four fingers on his left hand after he met with an accident.
There are 15 FIRs against Sukesh and over 100 complaints of extortion in Benagluru, Chennai and Hyderabad. Sukesh allegedly played middleman to help TTV Dinkaran allegedly get the AIADMK party symbol Two Leaves for Rs 60 crore.
Last Updated Mar 31, 2018, 6:57 PM IST