Finally, Yeddyurappa breaks fast, eats lunch at Dalits house
BJP leader Yeddyurappa visited ate breakfast, lunch prepared at Dalits house in Bagalkot
He was with his team in North Karnataka for a drought tour and to address public grievances
Earlier, he was criticised for visiting a Dalit's house in Tumakuru and eating idlis ordered from hotel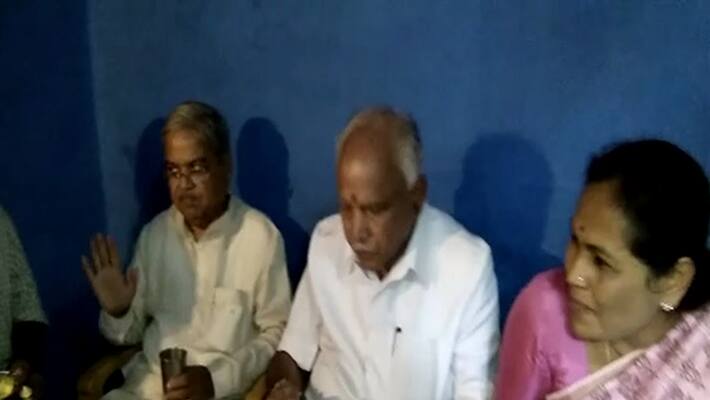 BJP state president Yeddyurappa accompanied by party leader Shobha Karandlaje had visited two Dalit families and the breakfast and lunch prepared in their houses, putting an end to the controversies raked up by opposition parties.
The Opposition parties in Karnataka had made fun of Yeddyurappa over his visit to a Dalit's house in Tumakuru where he was alleged of eating idlis ordered from the hotel. The videos of Yeddyurappa eating steaming Thatte Idlis (usually not prepared at home but in hotels) drew flak.
JD(S) leader HD Kumaraswamy had openly criticised Yeddyurappa and had said that it was just a publicity stunt. "People do not prepare Thatte Idlis at home, you don't have o go to this level for publicity," HDK had told referring to Yeddyurappa.
Following the backlash, Yeddyurappa tried to tell that there were more people in his team who went to visit the Dalit's house and that's why the family had to arrange for extra food from the hotel.
However, when the trolls failed to die down, he decided to do the stint again. This time, he was on a drought tour and to hear the public grievances to Bagalkot in North Karnataka. During the tour, Yeddyurappa and team visited the house of Rangappa Kundaragi, a Dalit. Here he was seen having various dishes for breakfast, prepared by the womenfolk of Rangappa family.
Yeddyurappa was seen eating Mandakki Susla-a preparation made of puffed rice and masala, with curds and chutney, sev, and chilli-based snacks.
In the afternoon Yeddyurappa with his team visited Pakeerappa's house at Ananthagiri village in Badami. There he ate chapatti, rotti, brinjal masala, rice and sambar.
Thus the BJP leader chose to answer the taunts of the Congress and JD(S) leaders by his act. However, there was no reaction from the opposition leaders for this act of Yeddyurappa having breakfast and lunch prepared by two dalit families at their houses.
Last Updated Mar 31, 2018, 6:53 PM IST