Jantakal mining case: It's relief for HDK, court grants him 7-day bail
Kumaraswamy has been accused of giving permit for illegal mining when he was the chief minister
The Lokayukta SIT is grilling IAS officer Baderiya
In 2015 too, the SIT had summoned HDK in the same case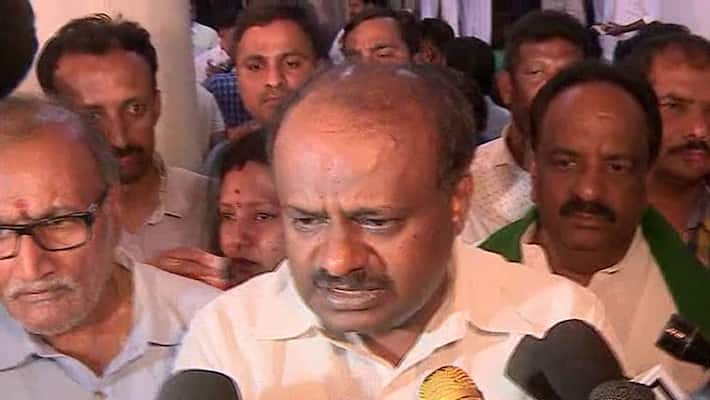 It's a breather for former chief minister HD Kumaraswamy, who had sought an anticipatory bail in the Jantakal illegal mining case. The city court here gave him seven-day conditional bail in the case here on Wednesday. JD(S) state president had filed an appeal seeking the anticipatory bail after an FIR was filed in the Jantakal mining case.
The court has directed the former chief minister not to leave the country and present himself before the investigating officers within the seven day period. The court has also asked him to deposit Rs five lakh as surety bond. The matter has been adjourned to May 24.
With the arrest of IAS officer Gangaram Baderiya on charges of forging documents from environment and forest department to grant permission to Jantakal Enterprises to illegally lift iron ore from Chitradurga by the Lokayukta Special Investigation Team (SIT), Kumaraswamy had filed the anticipatory  bail in the court, earlier. The SIT is investigating into the illegal mining report submitted by former Lokayukta Justice Santosh Hegde.
It is alleged that in 2007, Baderiya had written to his superior - commissioner mines and geology, stating that there was immense pressure from the chief minister (Kumaraswamy) to permit Janthakal Enterprises to lift the iron ore from Chitradurga. Following these charges, JD(S) state president Kumaraswamy is expected to be summoned by the SIT for inquiry. 
Baderiya's arrest follows the March 29 ruling of the Supreme Court, which had ordered SIT to probe as many as 11 senior officers, including Baderiya, and former chief ministers Kumaraswamy and Dharam Singh, and submit a report within three months. The arrested bureaucrat had received kickbacks from the mining company for allowing permit, it is alleged. The arrest of the bureaucrat Baderiya, Secretary of Revenue Department is the first such incident in the state where an IAS officer was arrested while in service.
Also read: Top Karnataka IAS officer forged MoEF documents to aid illegal mining
Kumaraswamy had stated that "I'm ready for any inquiry by the SIT. I'm not afraid of being grilled. I have not given any permit to mining lease to Jantakal Enterprise," Kumaraswamy said, reports Kannada Prabha. Kumaraswamy further said that he would not run away from the inquiry. "This is a politically motivated move by the State and Central governments against me. When I have not misused my office, why should I be afraid," Kumaraswamy said.  
Last Updated Mar 31, 2018, 6:39 PM IST