Did Baragur Ramachandrappa insult the soldiers? Here is what he has to say!
Writer and politician Baragur Ramachandrappa's writing has caused controversy in Karnataka
He is alleged of insulting soldiers in his writing 'War is a business' in the BCA Kannada textbook
But the writer has given a clarification and said he was being quoted out of context
Writer and politician Baragur Ramachandrappa's writing was used for a BCA Kannada textbook by the Mangalore University. But the lesson Yuddha ondu Udyama (War is a business) has come under controversy as it is alleged of insulting soldiers.
The Kannada textbook had a lesson 'War is a business' written by Baragur Ramachandrappa led to controversy as it has a sentence which states that during the war there are incidents of soldiers from both the sides raping women. This sentence was written as an anecdote of writer's friend.
But the sentence led to rage and Baragur Ramachandrappa apologised to the soldiers if it had hurt their feelings. But he also gave a clarification in this regard.
The writer said that the Textbook authority did not consult him or give it in writing about taking this write-up as a lesson in the textbook. In fact, someone from the board had called him and said that they wanted to take one of his articles as a lesson. They had not even specified which article.
As Ramachandrappa is a writer and has written many articles, he did not think this would be taken as a lesson.
He said the article in itself is not wrong because it was written in a context, to explain the loneliness and problems soldiers face on the war front. That was an experience of a friend which was cited as an example there. But to use this in the textbook as a lesson would not be appropriate, as it might not fit in the context.
He said that he respected soldiers and patriotism and had not written it to defame or slam the soldiers, but it was an effort to explain the problems soldiers face.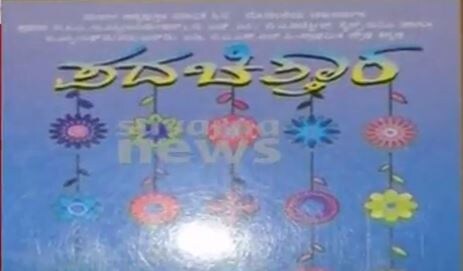 Last Updated Mar 31, 2018, 6:49 PM IST