Will Modi go shirtless as per traditions in Dharmasthala temple?
Prime Minister Narendra Modi is visiting Dharmasthala on October 29
As per traditions, men should remove their shirts before entering the temple
Temple authorities have reportedly made arrangements for Modi to slip into traditional attire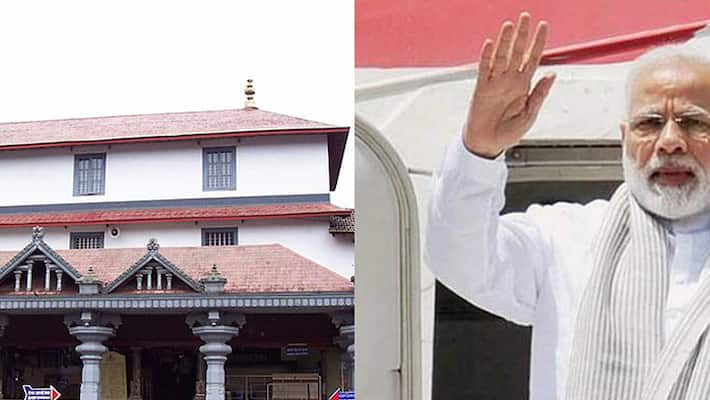 Prime Minister Narendra Modi always appears in crisp, starched Kurtas, except in suites while on the foreign tour. Seldom one has seen him in other avatars. However, when he visits Sri Kshetra Dharmasthala on October 29, he is expected to wear a panche and shalya - the traditional attire - while entering the temple.
Dharmasthala and other temples in Dakshina Kannada follow a very strict regimen that men have to remove their shirts before entering the temple.  According to Kannada Prabha, Modi who has learnt about the temple's tradition will follow the custom. Modi is expected to wear shalya - a piece of cloth that is worn to wrap the upper portion of the body and panche (also lungi) worn instead of the pants.
Also Read: Did you know Narendra Modi is the first PM to visit Dharmasthala?
Besides, the temple has made a special arrangement for the prime minister to change his clothes, reports Kannada Prabha quoting Dharmasthala temple authorities.
In fact, devotees wearing pants are restricted from entering the temple in the entrance itself. They are asked to change their clothes. If they do not have the set of required clothes, they are advised to buy from the shops nearby.
Also read: High alert in Dakshina Kannada ahead of PM Modi's visit to Dharmasthala
Modi is expected to offer a special puja to Lord Manjunatha and may meditate for a while. Later, he will also offer special puja to 'Annappa Daiva', 'Ganapathi' and Sridevi. He is expected to have the lunch served at the temple and later meet Dharmadhikari Dr D Veerendra Heggade and his family.
Last Updated Mar 31, 2018, 6:55 PM IST