3-yr-old baby has a miraculous escape as 7 including pregnant woman killed in cylinder blast
A cylinder blast brought a house crumbling down killing seven including a pregnant woman in Ejipura
A three-year-old girl Sanjana was miraculously saved by a cupboard, but sustained burn injuries
Gas cutters were used to remove the bodies of those caught below the debris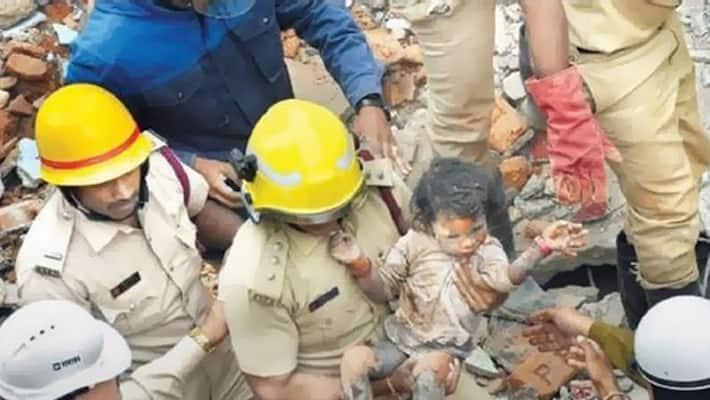 A cylinder blast brought a house crumbling down killing seven including a pregnant woman in Ejipura on Monday.  A 3-year-old girl was miraculously saved by a cupboard, reports Kannada Prabha.
Saravana and his wife Ashwini and daughter Sanjana were living in the ground floor of the building. Sanjana (3) was caught below a cupboard that leaned to the wall and that portion of the wall had not collapsed. When the rescue team was searching the premises, they heard the girl cry and first found her hand and later rescued her, said HS Varadarajan, deputy director Fire Brigade. The entire building collapsed when a gas cylinder blast. Maran, an eye-witness said at around 6.45 am, he heard a big noise like a bomb blast and he saw the building collapse. He immediately rushed to help.
There were five families living in the building. Of them seven died including a 8-month pregnant woman. Cab driver Saravana (29), Ashwini (26) who was pregnant and also an employee of a private firm in Wilson Garden, Ravichandran (46), Kalavathi (68), Maladri (25), brothers Hariprasad (18) and Pawan Kalyan (19) were the victims. Ashokan (52), Chitra (42) and their son Dipli Kumaran (18) who sustained injuries are under treatment. Dilip's face is totally burnt. He and his father have been admitted to Bowring Hospital and mother Chitra is admitted to St Philomena's Hospital. From the same family Priya (11) sustained minor scratches and Sunil Kumaran (9) escaped unhurt. Janaki (38) and Asha (21) living in the first floor sustained injuries. Janaki and Sanjana have sustained 70 per cent burn injuries and are at the ICU. Gas cutters were used to remove the bodies of those caught below the debris.
A complaint has been booked against the owner of the building Gunesh at Vivek Nagar police station. Urban Development Minister KJ George has announced Rs 5 lakh compensation for each family and Rs 50,000 for the injured.
The building located on the 9th main road, Gundappa Gowda Layout was 40 years old. BBMP officials told Kannada Prabha that a notice was issued to the building owner to take precautionary measures in the wake of heavy rain. DCP Chandragupta told Kannada Prabha FSL report is awaited whether the building collapsed due to cylinder blast or not. However, BBMP Commissioner Manjunath Prasad said the building has collapsed due to cylinder blast.
Last Updated Mar 31, 2018, 6:51 PM IST