When Prez's convoy could be stopped to make way for ambulance, why not CM's?
An ambulance carrying a patient was stopped in Nagamangala to allow Chief Minister's convoy
The patient was asked to get down and was forced to walk several kilometres to reach hospital
This is not the first time that an ambulance was stopped to make way for the CM's convoy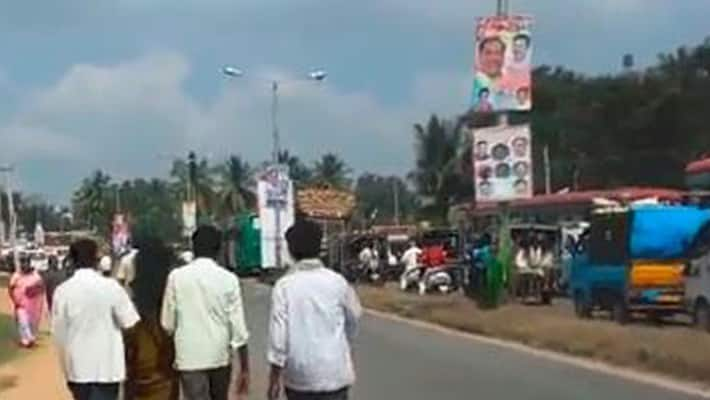 A woman was being rushed to Nagamangala Taluk Hospital in an ambulance on Monday. While she writhed in pain, she and her family members hoped to reach the hospital in time. But to their dismay, their ambulance was force-stopped by Nagamangala police mid-way. They were reportedly asked to get down and make way for the Chief Minister's convoy to pass through.
Chief Minister was visiting Nagamangala in Mandya district to lay foundation stone to Kanaka Community hall besides, launching a slew of development works. A video of woman being helped by her family members walking barefoot in the sun went viral on social media questioning the police's insensitivity at the cost of providing protocol to the chief minister. 
According to Suvarna News, the family members of the patient requested the police to allow them to go. The woman hailed from a village, and she had to come to the taluk hospital for treatment. But the police had blocked the traffic to allow the chief minister's convoy. When the ambulance reached the spot, the police stopped the ambulance citing security reasons for the chief minister's convoy. The police even asked the patient family members to get down and walk up to the hospital, if they were in a hurry. The patient's family members had no other go.
It is reported that some of the police personnel objected the bystanders, who were capturing it in their mobile phones. It is not known whether the chief minister was aware of the incident or not.
But it may be recalled here that CM had instructed the police to give right of way to ambulance after he drew severe flak for keeping an ambulance in wait for several minutes to allow his convoy in May this year. But this was never followed, as is the case in Nagamangala.
In fact, it can be recalled here that former President Pranab Mukherjee had lauded Bengaluru police for stopping his convoy to allow an ambulance, during his visit to the city, in June. Traffic sub-inspector ML Nijalingappa was deployed at Bengaluru's Trinity Circle on June 17 where the President's convoy was to pass through. It was reported that Nijalingappa spotted an ambulance that was rushing towards a private hospital near HAL. Nijalingappa soon directed his colleagues to make way for the ambulance, stopping the president's convoy. Nijalingappa's actions were lauded by the then president himself. Isn't this precedent worthy of emulation, Mr CM?
Last Updated Mar 31, 2018, 6:48 PM IST