Rain havoc: City drowned in 7 cm rain, citizens rescued by boats
A man and a woman died in two separate incidents on Tuesday night when heavy downpour lashed the City
On Tuesday night, the City received 70 mm rain flooding HSR Layout, Koramangala, Yeshwanthapur Muneshwara Nagar
Fire brigade shifted people to a safe location by boats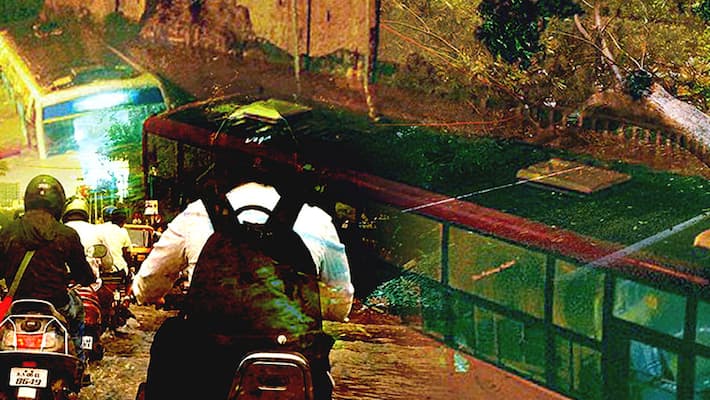 A man and a woman died in two separate incidents on Tuesday night when heavy downpour lashed the City. The woman was trying to safeguard the UPS as her house was flooding. But she was electrocuted. A man was declared dead after a wall collapsed on him while he was trying to save his sheep from the rain, reports Kannada Prabha.
On Tuesday night (September 26) the City received 70 mm rain flooding HSR Layout, Koramangala, Yeshwanthapur and Muneshwara Nagar. Over 150 upscale villas in Whitefield were marooned. Stranded residents were relocated to safer place in boats. Trees, walls and electric poles have crashed to the ground causing danger to vehicles. Loss of property is estimated to be very high.
In RMS Colony, Bhattarahalli in KR Pura, Alphine Jasmine (59) tried to switch off the UPS when water rushed into the house. But she was electrocuted and died on the spot. In Alur, Madanayakanahalli  Narayanappa (48) was trying to save sheep in a shed when the wall collapsed burying him under it. He died on the spot. The Fire Brigade rescued all citizens who were stranded at White field villas in boats. The BBMP staff pumped out rainwater water from the homes.
The heavy rain has reduced the HSR layout to an island. Cellars of houses and apartments were flooded. Vehicles were seen floating in the area. Thousands of houses in Whitefield, Koramangala, HSR Layout, Mohankumar Nagara, Kodichikkanahalli, Anugraha Layout, Sadananda Nagara, Indira Nagara, Domlur, Kaggadasapura, Doddanekkundi, Sanjay Gandhi Nagara, Nayandahalli, Rajarajeshwari Nagara Ideal Homes, Basavanna Nagara, KR Pura Netravathi Extension, Gayatri Extension, Chikkadevasandra, Bhattara Halli, Manjunath Extension and Seege Halli were marooned. Over 943 houses have incurred damage due to flooding. On Tumakuru Road traffic came to a standstill as the vehicles were stuck in the water. 
Last Updated Mar 31, 2018, 6:44 PM IST