Mooment Bengaluru group was planning to hold a protest and beef fest at Town Hall
The protest was planned against the new rule on ban on cow slaughter
But some groups announced that they would hold cow worship at Town Hall
The police refused to give permission to both the groups and has deployed KSRP personnel at Town Hall
Town Hall has become the centre for the most heated argument in Karnataka today. The Mooment Bengaluru group was scheduled to hold a protest against the rule against cow slaughter along with beef fest. But today, the police have refused to give permission for the event.
Reacting to this, supporters of beef eating had said that they will not conduct any fest but will surely hold a protest. This was followed by a decision by the supporters of the new rule who also stated that they will hold cow worship at Town Hall.
With all signs of tension brewing in Town Hall, the police refused permission to both the groups and said no event in this regard could be held here. Currently, the police have deployed two teams of Karnataka Reserve Police Force at the Town Hall to prevent any untoward incident.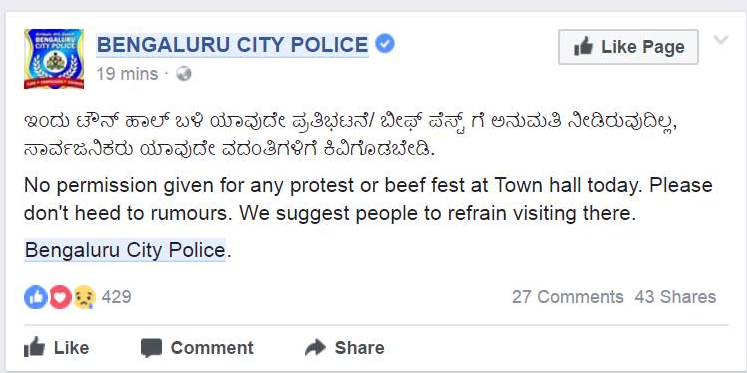 Currently, more than 200 police personnel have been deployed at the Town Hall.