Bengaluru hotel owner beaten up by police [VIDEO]
Shetty Lunch Home owner Rajiv Shetty was assaulted by ACP Manjunath Babu in Bengaluru
The police did not warn or give any notice but barged inside as started beating Rajiv up black and blue
Keeping the hotel open is said as the reason behind the assault
The incident has been recorded on CCTV and the owner is set to file a complaint with the police commissioner
The CCTV has captured the shocking footage of JC Nagar ACP Manjunath Babu assaulting RT Nagar Dinnur Road Shetty Lunch Home owner for keeping the hotel open at night.
Rajiv Shetty, who runs the Shetty Lunch Home in RT Nagar since 12 years, spoke to Suvarna and said that no liquor is served there and it is a small food serving hotel.
"The police jeep stopped in front of the hotel on November 9 at 11.50 PM. Two police personnel barged into the hotel and asked for the owner. Even before I asked them what the matter was, the ACP started beating me up with the lathi. He did not tell me the reason, even when I requested him but continued to beat me up."
"Later, I came to know that he was beating me up because the hotel was open at 11.50 PM," he said.
Shetty Lunch Home owner Rajiv Shetty being assaulted by police
The hotel owner also said that big outlets like Empire are open until 2 AM and no action is taken against them. If keeping the hotel, which serves only food after a certain time is wrong, the police could have warned me or sent me a notice. This ill-treatment is not justified in any way. Was I beaten up because I own a small outlet, he asked.
The video also shows that after beating him up for some time, the constable puts off the lights and continues to beat again.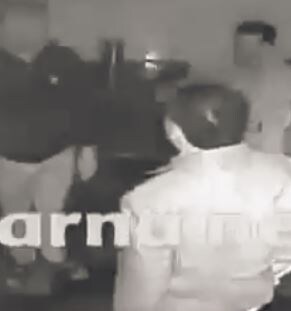 Police beating the owner up after putting the lights off
The owner also said that when asked the police said that those outlets have special permission granted and this hotel did not have it.
Currently, the owner's hand has been allegedly fractured, and his legs are also injured. He has got  the medical tests done and is set to file a complaint in this regard with the commissioner
"I want justice.  If I have committed any mistake punish me. But without any warning or notice barging inside the hotel and assaulting is wrong. So I will file a complaint," he said.
Last Updated Mar 31, 2018, 7:03 PM IST