208 students from Madrasa mistaken for children trafficking from Bangladesh
208 children arrive at Cantonment station from Guwahati -Bengaluru train detained by railway police.
Tension prevailed entire day as rumor spread that they were being trafficked from Bangladesh.
Muslim legislators and Hindu activists arrive at station and created tension speaking for and against the situation.
Only a few children had identification documents, each group had a Moulvi in charge.
They were Madrasa students from various parts of the State and were returning from homes after Ramadan.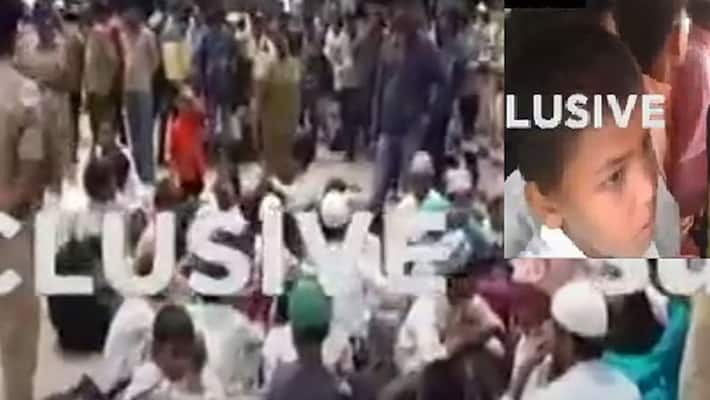 A group of 208 children travelling in Guwahati-Bengaluru Express, returning from Ramadan holidays were the cause of high tension and drama at Cantonment Railways station on Tuesday.  The Railway Police detained them at the station on rumour of child trafficking from Bangladesh.  Muslim legislators and Hindu activist arrived at the station, each making their claim.  
The confusion was the result of a traveller on the train calling some friends that children were being brought in the train illegally from Bangladesh.  The friend spread the news and soon the State and Central Railway Police came to know of it and they detained the children soon after arrival at Cantonment Station.  The children between the age group of 10 and 17 were taken to the resting room and were provided with food and drinking water.  For each team of the children one Moulvi was in charge and they were 17 Maulvis.
Child Welfare Committee, CCB police and local police inspected the identification documents and found that only some children had Aadhaar cards and certificates given by local Tahsildars and Gram Panchayath members. The rest of them did not have any documents.  The Maulvis said that the children were students of Madrasas at Bengaluru, Tumakuru, Madikeri, Shimoga and other places.  They had gone to native place for Ramadan and were returning.
Legislators Zameer Ahmed, N A Harris, Akhanda Srnivasa Murthy, Rizwan Arshad arrived at the station and insisted that the children should be sent with the Maulvis. However, the Pro-Hindu activists insisted that the background of children must be investigated. From morning till night 10 PM tension prevailed. Over 200 police personnel, including Karnataka Reserve Police were deputed on duty to guard the children.
Finally the legislators insisted that the children must be sent with the Maulvis and accordingly 4 buses were hired and they were sent along with supervisors to their respective districts.
A senior Railway Police told Kannada Prabha that the supervisors of children did not have permission letters from parents to prove that they were Madrasa students. He said wehave done our duty but the political leaders and activists created unnecessary tension at the railway station.
Last Updated Mar 31, 2018, 6:45 PM IST