Wild elephant attacks man near Bandipur, Forest officials allegedly refuse to lodge complaint
A severe elephant attack in Melkamanahalli, near Bandipur, left Adivasi beekeeper Nagesh critically injured with a broken backbone. Despite hospital treatment, his condition remains dire, impacting his ability to support his family. Frustration over forest officers' slow response led to a complaint and compensation demand.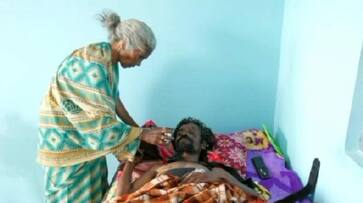 A man suffered a severe elephant attack, leading to a broken backbone, in Melkamanahalli, a village near Bandipur in Chamarajanagar district's Gundlupet taluk. The incident left the man, an Adivasi beekeeper named Nagesh, critically injured and in a life-and-death situation. The man was attacked by a wild elephant while he had been outside for excretion.
Nagesh's family members discovered him unconscious the next morning and brought him home. Despite being treated in hospitals in Mysuru, Bengaluru, and Chamrajnagar, his backbone and nerves remain damaged, making him bedridden. The man, who played a vital role in his family, is now unable to provide support due to his condition.
Elephant Census: Bandipur tops in tiger and elephant numbers
The family expressed frustration over the lack of prompt action from local forest officers to address the situation. They emphasized that even though the forest office is nearby, there was no response or assistance from them. They have now filed a complaint and are seeking compensation of Rs 5 lakh for the injuries sustained due to the elephant attack.
After the media came to the house with a camera, the forest officers have come now, offering to help, the family members claimed, criticising the neglect of individuals who are closely connected to the forest by the forest authorities.
Last Updated Aug 19, 2023, 5:50 PM IST