Rare and beautiful serpent 'Bamboo Pit Viper' discovered in Karnataka's Chikkamagaluru
A rare Bamboo Pit Viper, capable of absorbing water on its head, was discovered in Chikkamagaluru district, Western Ghats. Reptile expert Rizwan found it in a garden and safely released it into Kalasa forest, highlighting its unique features and endangered status.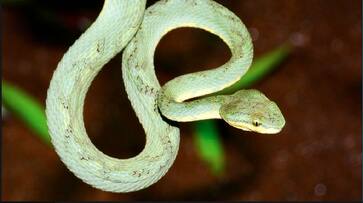 In an amazing discovery, a rare and stunning snake known as the Bamboo Pit Viper has been found in the Chikkamagaluru district, situated within the Western Ghats. This wonderful serpent, the only reptile capable of absorbing water falling on its head intact, was captured in Kalasa Taluk, Chikkamagaluru District.
Reptile expert Rizwan made this remarkable discovery in the garden of Chandru Bhatt's residence, adjacent to the Kalaseshwar temple in Kalsa.

Tigers mating at Bhadra Wildlife Sanctuary in Chikkamagaluru: Viral video (WATCH)
The Bamboo Pit Viper, scientifically known as Trimeresurus gramineus, is a unique species. While its bite is not lethal, a lack of proper treatment can result in severe consequences, including death. This extraordinary snake is classified as an endangered species and is primarily found in the forest regions of the Western Ghats, often residing within bamboo shoots.
The encounter unfolded when Chandru Bhatt, the homeowner, spotted the snake on a plant in his yard and promptly sought assistance from reptile expert Rizwan.
Upon Rizwan's arrival, he not only safely captured the snake but also elucidated its distinctive features and behaviours. The Bamboo Pit Viper is widely recognized as one of the world's most aesthetically pleasing snakes, known for its striking appearance.

Karnataka:15ft python has a dog for meal, stranded thereafter
The name "Bamboo Pit Viper" stems from its habitat preference, as it predominantly resides within bamboo shoots. Although its bite is not typically lethal, experts caution that it can result in severe harm if left untreated.
The local community and the homeowner were delighted to witness the beauty of this rare snake. Rizwan, the reptile expert, ensured the snake's safe capture and subsequently released it into the Kalasa forest.
Last Updated Oct 8, 2023, 1:26 PM IST