Tigers mating at Bhadra Wildlife Sanctuary in Chikkamagaluru: Viral video (WATCH)
A viral video from Karnataka's Bhadra Wildlife Sanctuary shows two tigers mating during a safari, surprising and delighting tourists, and highlighting the state's significant tiger population.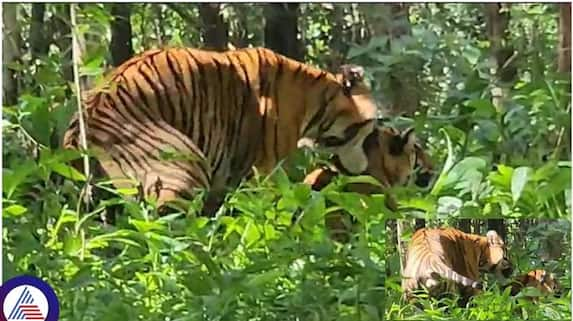 Karnataka is a state comprising second place in the country for having the second most number of Tigers in the country. Each and every sanctuary in the state consists of a significant number of Tigers. Meanwhile, a video from Bhadra Wildlife Sanctuary in Chaikkamagaluru has currently gone viral - where the tourists have captured a magnificent process of two Tigers mating in the forest.
During a safari at Bhadra Sanctuary in Chikmagalur district, tourists were treated to the sight of two tigers engaged in courtship. This remarkable encounter left tourists delighted as the tigers displayed affectionate behaviour in the wild, carefree about onlookers. A tourist's camera managed to record the tigers' playful interaction.

Mysuru: 7-year-old killed by tiger, death sparks outrage and concern
These captivating scenes unfolded in the Lakkavalli Bhadra Sanctuary located in Tarikere Taluk. Safari participants were not only fortunate to witness these intimate moments but also the tigers' reproductive activities amidst their echoing roars. These natural behaviours were documented on video, creating lasting memories. 
During the safari, the tigers, known for their elusive nature, made a rare appearance near the road, much to the delight of the tourists. The footage was recorded on the mobile phone of Kantaraj, the sub-divisional officer of Tarikere Taluk, who accompanied the safari.
Last Updated Sep 18, 2023, 4:42 PM IST