Tiger claw pendant row in Karnataka sparks concern over wildlife treasures in Malenadu
The arrest of Bigg Boss contestant Varthur Santhosh for wearing a tiger claw pendant in Karnataka's Highlands region has sparked uncertainty. Belief in the pendant's good luck has led to people voluntarily removing them, regardless of authenticity. Many hillside households unknowingly possess illegal wildlife-related items like antlers, raising concerns about potential legal consequences. Shimoga district has not reported cases, but worries persist in other areas.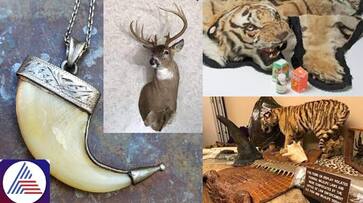 In Karnataka's Highlands region, the recent arrest of Bigg Boss contestant Varthur Santhosh for wearing a tiger claw pendant has left many people uncertain. The area is known for having inherited wildlife-related items passed down through generations, and the belief that wearing tiger claws brings good luck has only added to the confusion.
Some individuals have taken advantage of this belief by selling fake tiger claws as real, while others genuinely wore authentic ones. However, following Varthur Santhosh's arrest, people have started removing their pendants, regardless of their authenticity, and filed voluntary complaints with forest officials, even in places like Chikkamagaluru.

Tiger claw pendant row: Karnataka govt mulls granting final opportunity to return wildlife products
Another issue arises from the tradition of hillside households decorating their walls with old wild antlers and deer antlers without realizing it's illegal, according to the Forest Department. When the Wildlife Protection Act was enacted, those with such items were required to declare them to the government, but many were unaware of this, putting them in a legal bind. Disclosing these possessions now could result in legal consequences.
However, in Shimoga district, no cases have been reported following Varthur Santhosh's arrest. However, in other parts of the state, concerns are growing about owning Tiger claw pendant models.
Last Updated Oct 27, 2023, 12:49 PM IST